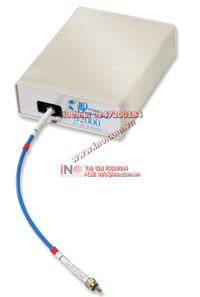 Lưu ý: Tham khảo ý kiến của nhân viên INO sẽ giúp bạn tiết kiệm được thời gian và chi phí khi cần mua sắm. ​​Với sự tư vấn của chúng tôi, bạn sẽ không gặp khó khăn khi tìm hiểu về đặc tính của sản phẩm cần mua.
The S2000 Miniature Fiber Optic Spectrometer from Ocean Optics was a low-cost, high-performance spectrometer easily configured for thousands of UV-VIS-Shortwave NIR applications from 200-1100 nm. The S2000 featured a high-sensitivity linear CCD array that provided unusually high response and excellent optical resolution in a miniature package.
The S2000, once our flagship product, is no longer available. Configuring the S2000 to work with external analog-to-digital converters could sometimes be time consuming and complicated. Several years ago we introduced USB-series spectrometers and the S2000 ceased to be the most popular spectrometer choice.
The S2000 features a familiar optical design — the crossed Czerny-Turner — that has been reconfigured for an optical bench small enough to fit into the palm of your hand. This compact optical bench — with no moving parts — has a high-sensitivity 2048-element linear CCD-array detector that accepts light energy transmitted through single-strand optical fiber and disperses it via a fixed grating across the array. Despite its tiny size, the bench delivers low stray light and high resolution, comparable to conventional 1/4-meter monochromators.
Resource & Download
Lưu ý: Nếu một thiết bị nào đó không được liệt kê ở đây, điều đó không có nghĩa rằng chúng tôi không hỗ trợ được bạn về thiết bị đó.
Hãy liên hệ với chúng tôi
 để biết danh sách đầy đủ về thiết bị mà chúng tôi có thể hỗ trợ và cung cấp.
INO: Bán, Báo giá, tư vấn mua sắm và cung cấp, tư vấn sản phẩm thay thế; tương đương, hướng dẫn sử dụng, giá…VNĐ, …USD info@ino.com.vn | Tel: (+84) 028 73000184 | Miniature Fiber Optic Spectrometer (S2000).