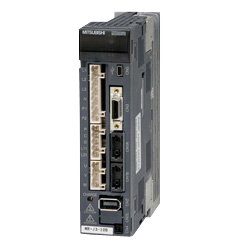 Lưu ý: Tham khảo ý kiến của nhân viên INO sẽ giúp bạn tiết kiệm được thời gian và chi phí khi cần mua sắm. ​​Với sự tư vấn của chúng tôi, bạn sẽ không gặp khó khăn khi tìm hiểu về đặc tính của sản phẩm cần mua.
MR-J3 400W Single-Phase Servo Amplifier
The MR-J3-B series supports connection to Mitsubishi motion control and positioning control systems. The drive systems are connected to these controllers via SSCNET ΙΙΙ, a highspeed motion control network with a cycle period of just 0.8 ms. Setting up this plug-and-play network couldn't be easier; you just have to select the axis address and connect the pre-configured bus cable, which also makes wiring errors impossible.
Features
• Plug-and-play SSCNET ΙΙΙ network
• Brake can be controlled directly by the amplifier
• 4 digital inputs for Limits, Dog and Stop
• Automatic parameterisation of the amplifier by the motion controller
on power up MR-J3-B (SSCNET ΙΙΙ bus type)
Technical specification
• Power supply – Single-phase 230 Va.c., 50/60 Hz
• Permissible frequency fluctuation – +/- 5%
• Control system – Sinusoidal PWM control/current control system
• Dynamic brake – Built-in
• Speed frequency response – 900Hz
• Structure – Self-cooling, open (IP00)
• Operating temperature – 0 to +55 °C
• Operating humidity – 90%RH max. (no condensation)
• Oscillation 5.9m/s2 (0.6 G) max.
• Dimensions – 40 x 168 x 170mm (width x height x depth)
(Please note; picture is for illustration purposes only)
Protective functions
Overcurrent shutdown, regeneration overvoltage shutdown, overload shutdown (electronic thermal), servomotor overheat protection, encoder fault protection, regeneration fault protection, undervoltage/sudden power outage protection, overspeed protection, excess error protection.
Resource & Download
Lưu ý: Nếu một thiết bị nào đó không được liệt kê ở đây, điều đó không có nghĩa rằng chúng tôi không hỗ trợ được bạn về thiết bị đó.
Hãy liên hệ với chúng tôi
 để biết danh sách đầy đủ về thiết bị mà chúng tôi có thể hỗ trợ và cung cấp.
INO: Bán, Báo giá, tư vấn mua sắm và cung cấp, tư vấn sản phẩm thay thế; tương đương, hướng dẫn sử dụng, giá…VNĐ, …USD info@ino.com.vn | Tel: (+84) 028 73000184 | Mitsubishi – Single-Phase Servo Amplifier (Model: MR-J3 400W ).