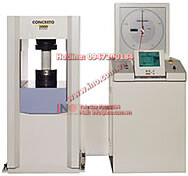 Lưu ý: Tham khảo ý kiến của nhân viên INO sẽ giúp bạn tiết kiệm được thời gian và chi phí khi cần mua sắm. ​​Với sự tư vấn của chúng tôi, bạn sẽ không gặp khó khăn khi tìm hiểu về đặc tính của sản phẩm cần mua.
Fully Automatic Testing of Ultra-High Strength Materials Through to Early Age or Mortar Samples on a Single Unit
The CONCRETO 2000 is the very latest in hydraulic type compression testing machines. It is equipped with high-speed processing control driven by a 32-bit high-performance CPU and an electrical hydraulically driven servo type closed-loop system.
[Features]
Simple Operation of All Tasks on a Large Touch Panel Screen All test operations such as various JIS standard-compliant control through to actual measurement can be performed fully automatically, and setting of test conditions through to test execution and display of test results can be performed on a single screen.
Highly Rigid Loading Unit Compatible with Ultra-High Strength Concrete An anti-burst feature compatible with ultra-high strength concrete ensures safer testing.
With Needle Indicator Ideal for Taking Post-Test Photos Maximum test force values can be checked at a glance by the needle indicator and on the digital display.
[Specifications]
Loading unit
| | |
| --- | --- |
| Max. capacity | 2000 kN |
| Upper/lower compression plate dimensions (with upper spherical seat mechanism) | φ220 mm |
| Distance between compression plates | Max. 320 mm |
| Eff. support spacing | 400 mm |
| Test stroke | 100 mm |
| Max. load speed | 20 mm/min |
| Size | 800 (W) × 700 (D) × 1530 (H) mm |
| Weight | 2700 kg |
Control method
Programmed logical operation by computer
Hydraulic servo system (with anti-burst feature)
Test force measurement system
Cylinder internal pressure measurement by high-precision pressure cell
Test force weighing capacity
(6 steps)
2000, 1000, 400, 200, 100, 40 kN
Test force precision
±1 % of indicated value at 1/5 or more of each weighing capacity (compatible with JIS B7733 Class 1)
Test force display
Both digital display and analog indication
(with needle indicator)
Size
700 (W) × 1000 (D) × 1670 (H) mm
Weight
125 kg
Power supply
200/220 V 3-phase, 50/60 Hz, approx. 4 kVA
Lưu ý: Nếu một thiết bị nào đó không được liệt kê ở đây, điều đó không có nghĩa rằng chúng tôi không hỗ trợ được bạn về thiết bị đó.
Hãy liên hệ với chúng tôi
 để biết danh sách đầy đủ về thiết bị mà chúng tôi có thể hỗ trợ và cung cấp.
INO: Bán, Báo giá, tư vấn mua sắm và cung cấp, tư vấn sản phẩm thay thế; tương đương, hướng dẫn sử dụng, giá…VNĐ, …USD info@ino.com.vn | Tel: (+84) 028 73000184 | Shimadzu-CONCRETO (Model:2000).