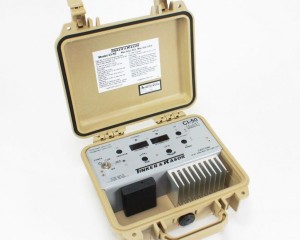 Lưu ý: Tham khảo ý kiến của nhân viên INO sẽ giúp bạn tiết kiệm được thời gian và chi phí khi cần mua sắm. ​​Với sự tư vấn của chúng tôi, bạn sẽ không gặp khó khăn khi tìm hiểu về đặc tính của sản phẩm cần mua.
The new Model CI-50 has numerous improvements over previous versions, such as:
MIL-SPEC locking Instrument Enclosure
Tan color reduces heat and blends with surroundings
(4) AA's replaces 12v lantern type from previous model
Locking style port connection
Hold setting in memory
Features:
In-case storage of cables
Cables with Locking cable connector
From 00.1 to 99.9 Seconds ON or OFF Settings
Large, Easy to Read LED Display
External Connections
Locking Lead Connection
Large Clamps
In Case Storage
MIL-SPEC Lockable Case
Battery Operated
Instrument Includes:
Model CI-50 Instrument in tan case

(4) AA Batteries (installed)
Cable, 6' length with clamps
Warranty Card
Tinker & Rasor re-introduces the Model CI-50 50 Amp Current Interrupter.The new Model CI-50 is the perfect companion for the CP Tech with isolated trouble. This product is easy to use, and programs quickly in the field. The instrument offers a a wide range of cycle times and has many new and innovative features not found anywhere else. The instrument represents the latest in electronics in the industry, with a new design and numerous improvements.
Specifications:
Maximum Current:50 Amps
Maximum Voltage: 120 Volts
Maximum Wattage: 6000 Watt
ON (Closed) Cycles: 0.1 sec to 99.9 sec (Programmable)
OFF (Open) Cycles: 0.1 sec to 99.9 sec (Programmable)
Battery Size: AA size
Battery Type: Alkaline
Battery Volts: (4) 1.5v AA
Cable Size: 10 AWG (6.0 mm2)
Cable Type: Stranded copper, PVC jacketed (Black)
Cable Length: 6' (1.83m)
Cable Clamp: (2) Copper, 75A rated, 0.75" (19 mm) Jaw Opening, 3.00" (76.2 mm) length
Case Dimension: 9.25" x 7.12" x 4.12" (23.5 x 18.1 x 10.5 cm)
Case Type: Tough, thermo-resin plastic (Pelican® type)
Case Info: Closing and locking lid, with carrying handle
Weight: 4 lbs (1.81kg)
TECHNICAL APPENDIX A Important Note Regarding Rectifier Spikes:
Most rectifiers experience a voltage spike when opening and closing, due to a capacitance effect in the system that can be quite large and very fast. Depending upon the magnitude and duration of the spike, the CI-50, and most other current interrupters made today, can become significantly damaged.
It is recommended that an oscilloscope be connected to a rectifier and the rectifier be manually cycled to see what type of spike may be present, prior to using an interrupter.
This step becomes especially important when the DC output of the rectifier is ≥ 50% or of the maximum current the interrupter can handle. In the case of the Quasar, which is a 100 Amp max instrument, a rectifier with an output greater than 24 amps should be investigated with an oscilloscope.
The Magnitude and duration of the voltage spike is expressed in the graph below. The green area of the graph is 0 – 750 volts and 0 – 2 milliseconds (0.002s) of time. The red area shows higher voltages and longer durations which can damage the instrument.
If a rectifier is found to have a voltage spike in the red area of the graph, it is not suggested that the current interrupter be used if the current to be interrupted is greater than or equal to 50% of the max specified current of the instrument.
Resource & Download
Lưu ý: Nếu một thiết bị nào đó không được liệt kê ở đây, điều đó không có nghĩa rằng chúng tôi không hỗ trợ được bạn về thiết bị đó.
Hãy liên hệ với chúng tôi
 để biết danh sách đầy đủ về thiết bị mà chúng tôi có thể hỗ trợ và cung cấp.
INO: Bán, Báo giá, tư vấn mua sắm và cung cấp, tư vấn sản phẩm thay thế; tương đương, hướng dẫn sử dụng, giá…VNĐ, …USD info@ino.com.vn | Tel: (+84) 028 73000184 | Tinker & Rasor – 50 Amp Current Interrupter (Model: CI-50).