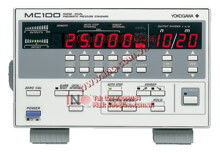 Lưu ý: Tham khảo ý kiến của nhân viên INO sẽ giúp bạn tiết kiệm được thời gian và chi phí khi cần mua sắm. ​​Với sự tư vấn của chúng tôi, bạn sẽ không gặp khó khăn khi tìm hiểu về đặc tính của sản phẩm cần mua.
The MC100 Series is well-suited for calibration and maintenance of pressure instrumentation. Various pressure instruments such as pressure sensors, industrial transmitters, and pressure switches, as well as sphygmomanometers and other medical devices face severe price competition and demands for improved accuracy.
The MC100 Series meets your many requirements with these features:
High accuracy ±(0.05% of full scale)
Excellent stability provided by silicon resonant sensor
Low temperature coefficient Zero point: ±0.003% of full scale/°C Span: ±0.002% of full scale/°C
Divided output function with as many as 20 steps
Auto-step output function
Sweep output function
Offset monitor function to present deviation from final value
Silicon resonant sensor
High sensitivity and resolution and superior long-term stability
The vibrators are in a vacuum. This reduces the dispersion of vibration energy. Combined with the superior flexibility of monocrystal silicon, this makes it possible to obtain a high Q value.
Extremely low temperature dependence
Two vibrators are used, and pressure is derived from the difference between the two unique oscillation counts. With this operating structure, it is possible to cancel out external environment influences such as ambient temperature. In addition, the oscillators are in a vacuum, so they are not affected by ambient temperature or humidity.
Front Panel
Rear Panel
Calibration System
Resource & Download
Lưu ý: Nếu một thiết bị nào đó không được liệt kê ở đây, điều đó không có nghĩa rằng chúng tôi không hỗ trợ được bạn về thiết bị đó.
Hãy liên hệ với chúng tôi
 để biết danh sách đầy đủ về thiết bị mà chúng tôi có thể hỗ trợ và cung cấp.
INO: Bán, Báo giá, tư vấn mua sắm và cung cấp, tư vấn sản phẩm thay thế; tương đương, hướng dẫn sử dụng, giá…VNĐ, …USD info@ino.com.vn | Tel: (+84) 028 73000184 | Yokogawa-PNEUMATIC PRESSURE STANDARD (Model:MC100 ).