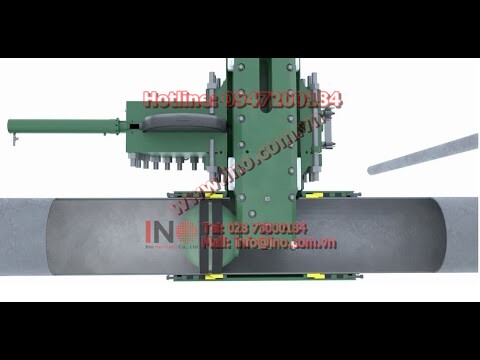 Pipeline Hot Tapping & Plugging, BISEP, Flare Line Isolation, Case Study
Các câu hỏi, thắc mắc, thông tin liên quan đến sản phẩm được giới thiệu trong video dưới đây từ khâu mua sắm, lựa chọn, sử dụng, cài đặt hay thay thế, vui lòng liên hệ với INO Team để được hỗ trợ và tư vấn kịp thời.

– – – LƯU Ý – – -: Với những thiết bị không được liệt kê ở đây không có nghĩa là chúng tôi không hỗ trợ được bạn, công ty chúng tôi chuyên đề xuất giải pháp, tư vấn mua sắm và cung cấp thiết bị về cảm biến công nghiệp, đo lường và tự động hoá cho các công ty trong và ngoài nước.
Công ty TNHH Giải pháp và Công nghệ Đo lường INO, nhà cung cấp các thiết bị đo lường và tự động hóa công nghiệp.
STATS BISEP® offers pipeline operators an industry leading technology solution for temporary line plugging. Achieved using patented and DNV GL Type Approved technology, the BISEP provides a fail-safe double block and bleed isolation deployed through a single full bore hot tap intervention, without the need for additional hot tapped bleed or vent ports. The BISEP offers significant safety advantages over traditional line stop technologies, with the hydraulically activated dual seals providing leak-tight isolation of live, pressurised pipelines.
This high integrity isolation is provided by a spherical dual seal plug which is hydraulically deployed into the pipeline from a pressure competent launcher, through a dual seal isolation valve. The seals are hydraulically compressed resulting in radial expansion against the pipe bore. During isolation barrier proving, each seal is tested independently with full pipeline pressure in the direction of the expected pressure differential, proving both seals of the double block isolation are leak-tight. Following successful seal proving, the vented annulus void is then closed and monitored confirming isolation integrity throughout the isolation period.
The line pressure acting against the BISEP pressure head offers a fail-safe feature by providing actuation independent of the hydraulic system. The ejection load resistance is provided by the BISEP deployment head.
Multiple BISEPs can be used to provide mid-line isolation of pipeline sections and the introduction of a bypass line allows sectional isolation to take place without the need to shut down the entire system or affect product flow.
For more information visit –
Web: www.ino.com.vn | Mail: info@ino.com.vn
Tel: (+84) 028 73000184 | Hotline: 0947200184
Website: http://www.ino.com.vn Website: http://www.ino.vn
Please visit INO YouTube Channel for more Video
https://www.youtube.com/inomeasure