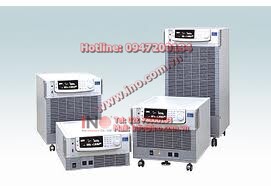 Lưu ý: Tham khảo ý kiến của nhân viên INO sẽ giúp bạn tiết kiệm được thời gian và chi phí khi cần mua sắm. ​​Với sự tư vấn của chúng tôi, bạn sẽ không gặp khó khăn khi tìm hiểu về đặc tính của sản phẩm cần mua.
The PCR-LA Series is the most advanced, with having polished multifunctional AC power supply device of our best selling AC power supply PCR-L Series. By adding new functions and options while carrying over the basic performance from former model, this Series is reborn as a safe and reliable model that is much easier to use. As the PCR-LA Series comes with not only the basic operating functions of the main body, but also has standard equipment of RS-232C and the dedicated remote control external interface (GPIB is optional), if you have a PC, you can use almost all of the functions of the PCR-LA Series. The remote controller (RC03-PCR-LA) is available for "abnormal power line simulation functions", which is the most frequently used in power supply environment testing, it makes possible for you to perform the functions easily, and above all, at a low cost. In addition, by combining the output extension kit (0T01-PCR-LA/2, 0T01-PCR-LA/3, etc.), you can easily build a single phase/single phase three-wire out-put or single phase/three phase configuration system.
With the PCR-LA Series' high-quality basic performance and abundance in flexible expandability, apply to the anticipated fields of various applications, in the field of an electric, machinery and chemicals for such power supply environmental testing, immunity testing, or power amplification of the output waveform for arbitrary waveform signal generators.
Features
High-quality/high-stability output with a high-speed linear amp

Equipped with various measuring functions

Offering also DC outputs

Come with the RS-232C and remote control interface are standard equipment

Switching the configuration of single phase/single phase three-wire out-put, single phase/three phase easily (option)

Compatible with external signal input, possible to operate as a power amp (option)

Low frequency immunity test software (option)
Resource & Download
Lưu ý: Nếu một thiết bị nào đó không được liệt kê ở đây, điều đó không có nghĩa rằng chúng tôi không hỗ trợ được bạn về thiết bị đó.
Hãy liên hệ với chúng tôi
 để biết danh sách đầy đủ về thiết bị mà chúng tôi có thể hỗ trợ và cung cấp.
INO: Bán, Báo giá, tư vấn mua sắm và cung cấp, tư vấn sản phẩm thay thế; tương đương, hướng dẫn sử dụng, giá…VNĐ, …USD info@ino.com.vn | Tel: (+84) 028 73000184 | Kikusui, PCR-LA Series Multifunctional AC Power Supply (CV/CF).