Multifunction calibrator of electrical / physical values for field use:
– High accuracy: 0.005 % RDG
– Temperature: 0.005 % RDG for Tc / 0.006 % for RTDs
– Voltage: 0.005 % RDG / Up to 50 V range / 1µV resolution
– Current: 0.007 % RDG / Up to 100mA range / loop supply (24 V) / 1µA resolution
– Resistance: 0.006 % RDG / Up to 50KΩ range / 1mΩ resolution
– Pressure: 0.05 % RDG / Up to 30 bar relative / 1,000 bar absolute pressure
– Frequency: 0.01 % RDG / Up to 100 KHz range / 0.01 Hz resolution
– Bluetooth interface
CALYS 150 specific features:
– Reasonable price compared to competitors
– Comparison calibration
– Calibration of HART transmitters
– Calibration of thermistors
– Easy-to-use & comprehensive calibration software: DATACAL
– Easy connection system
– Full compliant with:
– NADCAP, AMS 2750 standard for heat treatment
– FDA, 21 CFR Part 11 standard for pharmaceutical industry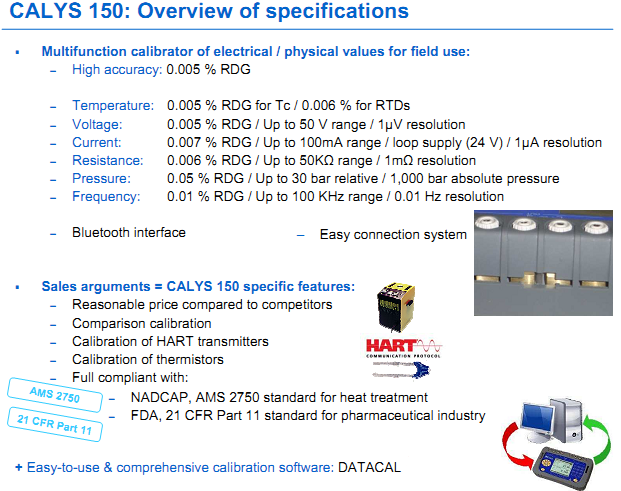 Thanks to dual input channels
Channel 1: IN
Channel under verification = instrument to be calibrated (every tool of process chain: sensor, transmitter, meter display…)
Channel 2: IN / OUT
Reference standard probe = probe in furnace or value input on keyboard
CALYS 150 advantages
Quick calibration of the whole process chain with one single instrument
Edition of customized calibration
reports & certificates with DATACAL
calibration software
Principle:
Using CALYS 150 keyboard or through DATACAL interface, users can edit / store / run the calibration
procedure defining:
– Each calibration point
– The transmission mode (manual / one-way / two-way)
– The settling time (time between sending the setting from the OUTPUT of the CALYS 150 and making the measurement with INPUT channel)
– The display or not of a calibration verdict (test report)
– The accepted deviation in unit or % of the verdict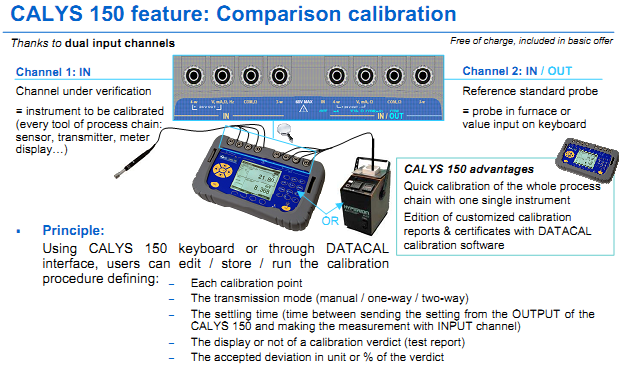 Typical Apllication in
Company calibration/departments in all sectors using a lot of temperature sensors: Energy / Pharmaceutical / Metal industry + Public / private calibration laboratories
CALYS 150 advantages compared to competitors
Quick and high accurate calibration (0.006% RDG for RTD sensors)
Edition of customized calibration reports and certificates with DATACAL calibration software
*Complying furnaces: all AOIP dry-blocks and baths (former & new generation of baths / dry blocks equipped with "Eurotherm 3200 series" controllers)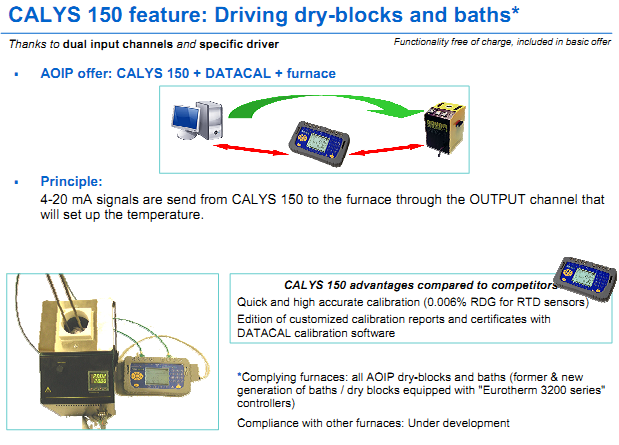 HART, Highway-Addressable Remote Transducer:
Communication protocole over a direct current loop (0-20 or 4-20 mA). Without interfering with conventional current analog signal, this protocol defines communication between HART transmitters and a control system and enables much information to be transferred about the transmitter: brand, reference, part number, date of last calibration…
Replacing analog units for similar prices, benefits are also higher performance and better reliability, while saving time and effort in maintenance and calibration.
Now, thanks to a non disturbing digital transmission resistor and very short setting time, CALYS 150 is able to digitally calibrate all types of transmitters, including HART smart transmitters. The additional HART modem enables HART data to be transferred by CALYS 150
Calibration of HART transmitters:
In the past, two separate tools were required: A calibrator of process signals (for 4-20 mA reference signals) and a communicator (for digital communication).
High sales potential of CALYS 150 for HART feature:
Over 5 million HART transmitters in more than 100,00 plants worldwide
Sales: 25 % of CALYS 150 sold with HART modem
Typical Apllication in INDUSTRY
– All industries widely use these smart transmitters: Energy / Chemical / Pharmaceutical / Food / Petrochemical / Paper-Textile industry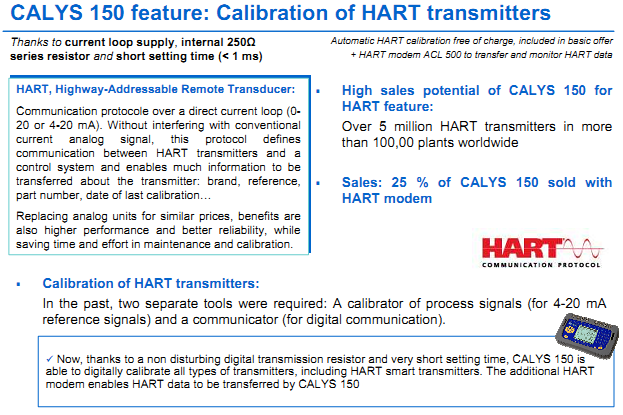 CALYS 150 communication with HART transmitters:
– Full HART compatibility with all HART V / HART VI transmitters
– HART commands adressed:Universal commands (ID positioner)
+ read&write commands used in the calibration process
+ proportional valves
Principle:
– After connecting and addressing up to 15 transmitters to CALYS 150, set and send the configuration of current loop and detector to the HART transmitters
– Edit, send and run a verification procedure (manual or automatic) for the detector and the current loop
– Adjust the detector and/or the current loop according to the values displayed
– Edit a calibration report and send it to DATACAL calibration software for printing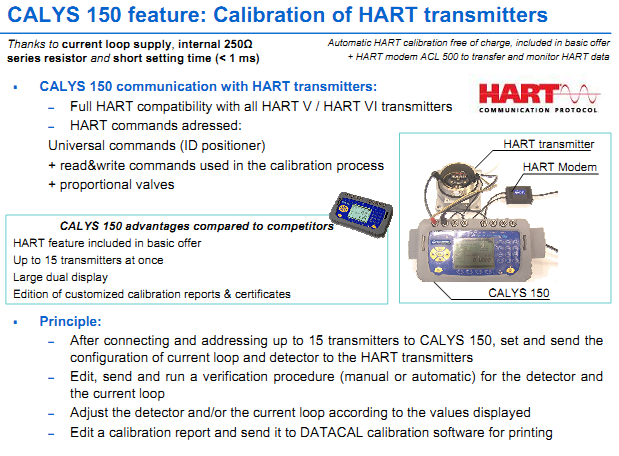 Calibration of thermistors:
Due to quick and predictable response of thermistors to limited temperature variation,
3 requirements should be fulfilled by the instrument intending to calibrate thermistors:
1. Emission / measurement of a broad range of pulsed resistanceUp to 50 Kohm
2. Short establishing time < 1 ms
3. Possibility to enter the 3 coefficients* defining the relation between
temperature & resistance variation of a thermistor Fulfilled
(named Steinhart-Hart equation)
Definition of thermistors
Temperature sensitive resistors that are inexpensive, rugged, reliable, and that quickly respond in a predictable way to small temperature variations.
Thermistors may be used over a broad range of temperature, from –200°C up to 1,000°C.
Thermistors, like other temperature sensors, need to be regularly calibrated.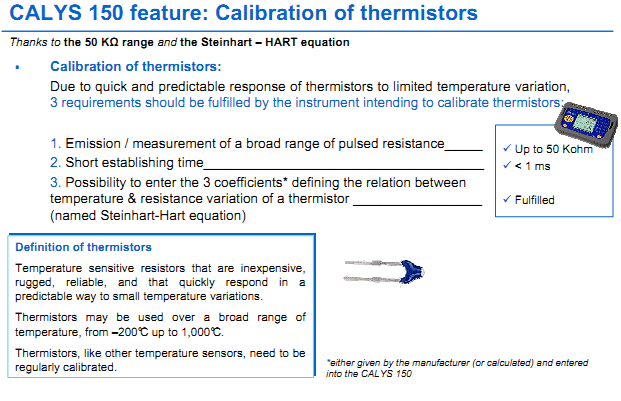 Typical Application in ALL INDUSTRIES WIDELY USE THERMISTORS
– Energy / Automotive / Aerospace / Military / Computing / Intrumentation / Industrial electronics / Consumer electronics / Medical electronics / Food industry
AMS 2750, NADCAP standard for heat treatment
It applies to all manufacturers and sub-contractors working for the aircraft industry and using parts that need to
be heat treated (mainly metal parts).
AMS 2750 standard defines the way heat treatment must be performed in terms of:
– use of furnaces, sensors and other
instruments
– test and control means
The NADCAP for heat treatment sets following:
The calibration of field test instruments, SAT / TUS sensors, load sensors, and controlling, monitoring, or
recording sensors shall be performed by a secondary standard instrument with a minimum accuracy of:
± 0.2°C or ± 0.05% of reading, whichever is greater .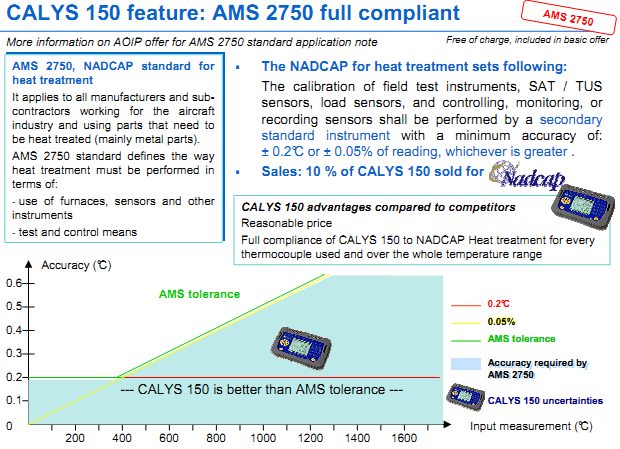 The standard sets following:
A system is 21 CFR Part 11 full compliant only if:
– Audit trails trace all actions and events during a qualification fulfilled
– Access rights are managed by the Administratorfulfilled
– Access is authorized through password and user ID given by the Administrator
– All records are protected in a native format and shall not be corrupted fulfilled
– Electronic signature is required for every action into the system fulfilled
– Training can be provided by the manufacturer fulfilled
21 CFR Part 11, standard from US Food & Drug Administration
Applying to pharmaceutical industry, medical operations and cosmetics, it specifies the way documents and electronic data should be correctly used in order to certify the reliability and safety of a system. The standard was set up to minimize risks related to electronic processing of data.
Key-rules are precisely defined in terms of system validation and safety, audit trail, operational control, documentation management, electronic signature and education.