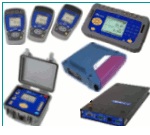 Pyrotechnical ohmmeter: RN5306
Handheld instrument for onsite tests.
Measurement are performed on 2 or 4 wires, from 20 ohms to 2 Mohms, with a maximum resolution of 0.01 ohm.
Ranges are selected with switch.
Safety is insured with resistance circuit and current limited to 0.5 mA.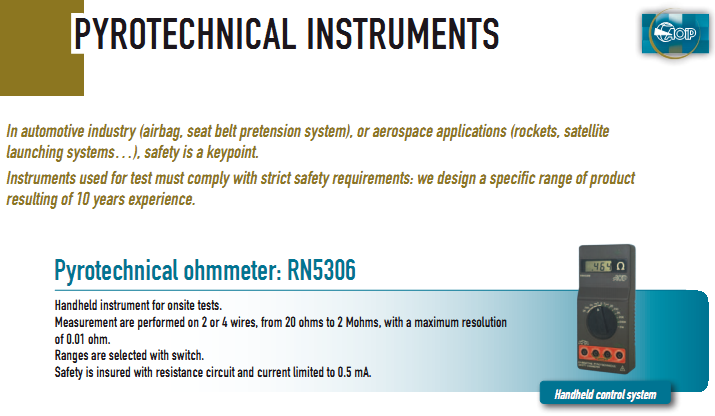 Pyrotechnical ohmmeter/megohmmeter: IND43/44/45
Fully programmable, available in table top or bench format.
4 wire measurement up to 15 ohms for continuity testing with current 20 mA.
Measurement up to 100 Mohms for insulation with selectable testing voltage 45 V or 500 V.
Programmable via keyboard and display or with computer.
Safety features: connection to the test line only during period of measurement, current kept lower than firing current, permanent self checking of the internal functions.
Scanner matrix are added in case of harness tests.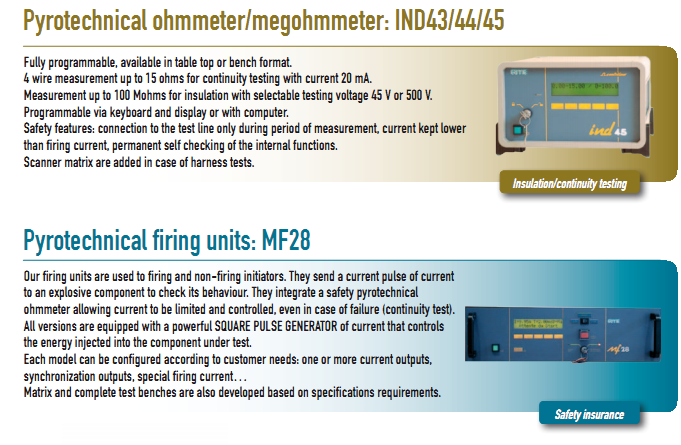 Pyrotechnical firing units: MF28
Our firing units are used to firing and non-firing initiators. They send a current pulse of current to an explosive component to check its behaviour. They integrate a safety pyrotechnical ohmmeter allowing current to be limited and controlled, even in case of failure (continuity test).
All versions are equipped with a powerful SQUARE PULSE GENERATOR of current that controls the energy injected into the component under test.
Each model can be configured according to customer needs: one or more current outputs, synchronization outputs, special firing current…
Matrix and complete test benches are also developed based on specifications requirements
Typical Application Example
Airbag testing systems, rockets, pyrotechnic valves, initiators, satellite separation systems, cable cutters.