Digital transmitters T2RN
T2RN: single module networkable over RS485 modbus network up to 255 modules.
These modules convert analog signals to digital signals.
Each module can accept up to 6 inputs: 2 for 4-20mA, 2 for 0-10V and 2 for temperature by thermocouples or RTD, OR contacts.
They are a cost effective alternative to multichannel data acquisition systems, avoiding long length sensors and being located close to the sensor.
Other models exist for output relays to trig alarms, horns and visual alarms.
Only a twisted pair of cable is needed to transfer data to computer where software is installed for reading.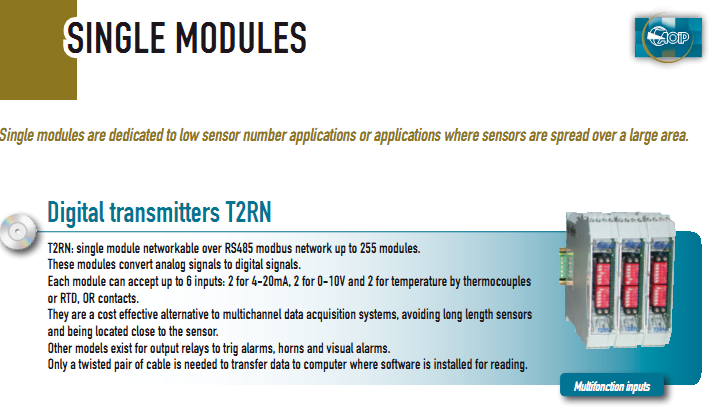 Wireless Radio thermometers with display TM6640
TM6640 series of dual channel RTD thermometers are equiped with built-in display and can accurately
measure and transmit temperatures, via 866MHz radio transmission to a modem connected to a computer.
Due to their high technological level, their installation is automatically performed, with auto-recognition of
modules creating a MESH network: data is identified then transferred directly to a base station
or through other similar modules.
Powered either by batteries or rechargeable batteries.
Base station can log data in case of computer breakdown during several hours.
A network of thermometers can be erected until 100 units, to perform monitoring.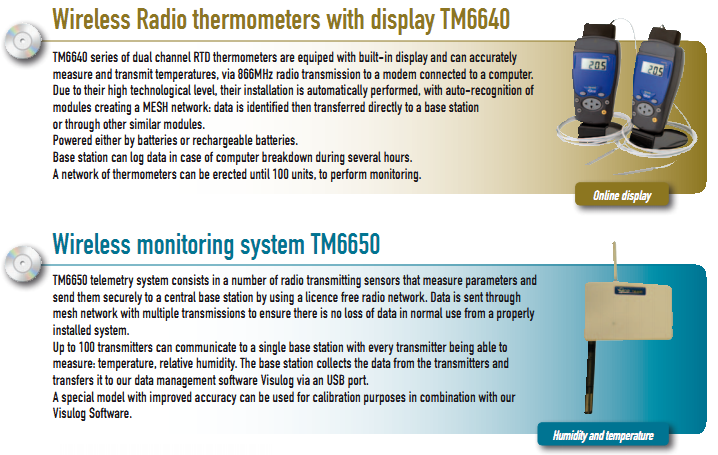 Wireless monitoring system TM6650
TM6650 telemetry system consists in a number of radio transmitting sensors that measure parameters and send them securely to a central base station by using a licence free radio network. Data is sent through mesh network with multiple transmissions to ensure there is no loss of data in normal use from a properly installed system.
Up to 100 transmitters can communicate to a single base station with every transmitter being able to measure: temperature, relative humidity. The base station collects the data from the transmitters and transfers it to our data management software Visulog via an USB port.
A special model with improved accuracy can be used for calibration purposes in combination with our Visulog Software
Application example
Due to their metrology performances and their reliable quality, our monitoring systems perfectly meet monitoring, validation requirements.
They can be integrated into test benches.