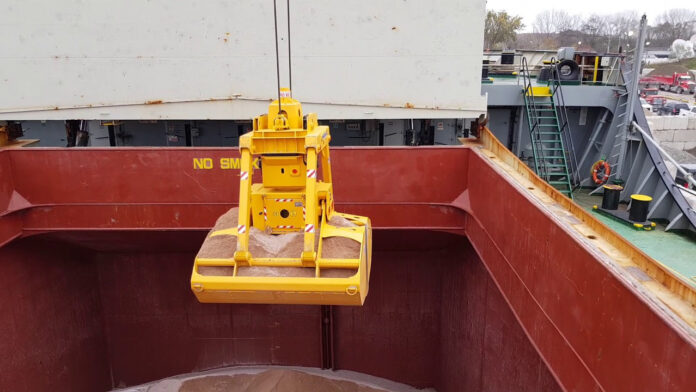 GUVEN GRAB – BULK OPERATIONS – RADIO REMOTE CONTROL GRAB
Các câu hỏi, thắc mắc, thông tin liên quan đến sản phẩm được giới thiệu trong video dưới đây từ khâu mua sắm, lựa chọn, sử dụng, cài đặt hay thay thế, vui lòng liên hệ với INO Team để được hỗ trợ và tư vấn kịp thời.

– – – LƯU Ý – – -: Với những thiết bị không được liệt kê ở đây không có nghĩa là chúng tôi không hỗ trợ được bạn, công ty chúng tôi chuyên đề xuất giải pháp, tư vấn mua sắm và cung cấp thiết bị về cảm biến công nghiệp, đo lường và tự động hoá cho các công ty trong và ngoài nước.
Công ty TNHH Giải pháp và Công nghệ Đo lường INO, nhà cung cấp các thiết bị đo lường và tự động hóa công nghiệp.
Salt Discharge Operation in Toronto, Canada
RADIO REMOTE CONTROL GRAB
WIRELESS CONTROL GRAB
Designed by GUVEN GRAB, and patented by Turkish Patent Industry.
Designed for single wired cranes. Capable to load and discharge all bulk pouring loads.
Manufactured in the range of 3 to 60 cubic meter capacities.
Closed by wire and mechanism same as mechanical grabs, during lifting of crane automaticly opened by wireless remote control device on air up to 100 meters distance, works by DC battery, receiver and oil circilation only, NO ANY MOTOR, NO PUMP included and NO ANY CABLE DRUM MECHANISM NEEDED, used at any kind of crane.
For all questions;
GÜVEN Kepçe Makine Sanayi ve Ticaret A.Ş. (Guven Grab)
Akse Mahallesi, 535.Sk. No:3/1
Cayirova 41420 Kocaeli / TURKEY
+90 (262) 743 88 58 (pbx)
+90 (262) 743 11 41 (fax)
www.guvengrab.com
info@guvengrab.com
Web: www.ino.com.vn | Mail: info@ino.com.vn
Tel: (+84) 028 73000184 | Hotline: 0947200184
Website: http://www.ino.com.vn Website: http://www.ino.vn
Please visit INO YouTube Channel for more Video
https://www.youtube.com/inomeasure