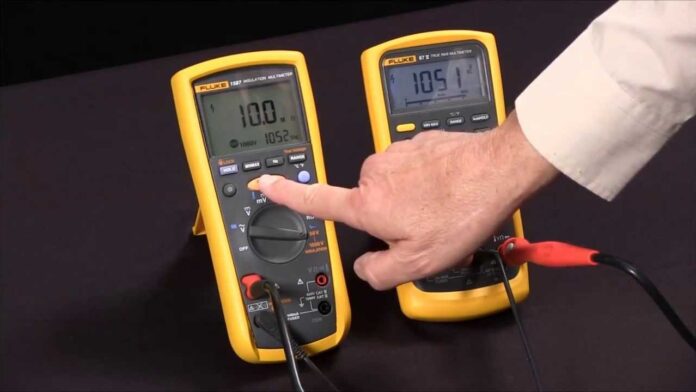 How to Measure Insulation Resistance With The Fluke 1587
Các câu hỏi, thắc mắc, thông tin liên quan đến sản phẩm được giới thiệu trong video dưới đây từ khâu mua sắm, lựa chọn, sử dụng, cài đặt hay thay thế, vui lòng liên hệ với INO Team để được hỗ trợ và tư vấn kịp thời.

– – – LƯU Ý – – -: Với những thiết bị không được liệt kê ở đây không có nghĩa là chúng tôi không hỗ trợ được bạn, công ty chúng tôi chuyên đề xuất giải pháp, tư vấn mua sắm và cung cấp thiết bị về cảm biến công nghiệp, đo lường và tự động hoá cho các công ty trong và ngoài nước.
Công ty TNHH Giải pháp và Công nghệ Đo lường INO, nhà cung cấp các thiết bị đo lường và tự động hóa công nghiệp.
http://bit.ly/2y9h9BS
In this video, learn how to measure insulation resistance using the Fluke 1587 Digital Multimeter.
To start the test, simply turn the Fluke 1587 rotary knob to the orange insulation test voltage functions, select the appropriate test voltage to begin your test, and press the "Test" button. Keep in mind that insulation resistance values will vary with temperature and humidity.
The Fluke 1587 Insulation Multimeter combine a digital insulation tester with a full-featured, True RMS Digital Multimeter in a single, compact, handheld unit, which provides maximum versatility for both troubleshooting and preventative maintenance. The Fluke 1587 FC is Fluke Connect-enabled so you can download the free Fluke Connect® Measurements app to your smartphone and gain additional functions.
The Fluke 1587 Insulation Multimeter has been discontinued. Visit our website to learn more about the Fluke 1587 FC Insulation Multimeter: http://bit.ly/2y9h9BS
#Fluke1587 #InsulationResistanceTest #InsulationResistance #InsulationTester
Web: www.ino.com.vn | Mail: info@ino.com.vn
Tel: (+84) 028 73000184 | Hotline: 0947200184
Website: http://www.ino.com.vn Website: http://www.ino.vn
Please visit INO YouTube Channel for more Video
https://www.youtube.com/inomeasure