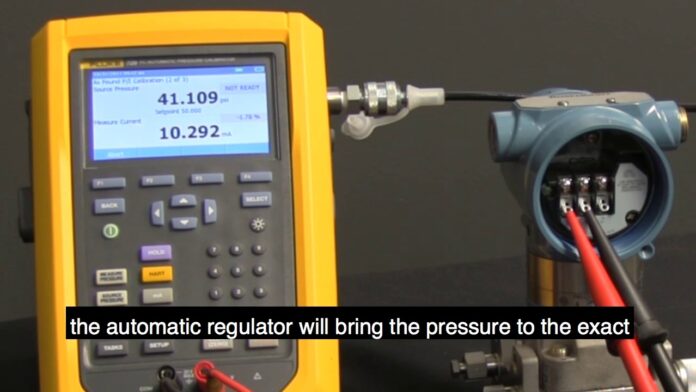 How to Perform a Pressure Calibration Using The Fluke 729
Các câu hỏi, thắc mắc, thông tin liên quan đến sản phẩm được giới thiệu trong video dưới đây từ khâu mua sắm, lựa chọn, sử dụng, cài đặt hay thay thế, vui lòng liên hệ với INO Team để được hỗ trợ và tư vấn kịp thời.

– – – LƯU Ý – – -: Với những thiết bị không được liệt kê ở đây không có nghĩa là chúng tôi không hỗ trợ được bạn, công ty chúng tôi chuyên đề xuất giải pháp, tư vấn mua sắm và cung cấp thiết bị về cảm biến công nghiệp, đo lường và tự động hoá cho các công ty trong và ngoài nước.
Công ty TNHH Giải pháp và Công nghệ Đo lường INO, nhà cung cấp các thiết bị đo lường và tự động hóa công nghiệp.
http://bit.ly/2vt8w0H
This video describes how to connect to a pressure transmitter, set up the device configuration, and perform an automatic pressure calibration, including documenting the test results with the Fluke 729 Automatic Pressure Calibrator.
How to calibrate a pressure transmitter with the Fluke 729:
1. Connect The Fluke 729 to the pressure transmitter using the 4-20 mA jacks
2. Zero the pressure calibrator pressing the VENT button
3. Press TASK to select what type of transmitter you're calibrating
4. Configure your settings
5. Press Auto Test to begin the test
The Fluke 729 Automatic Pressure Calibrator has been designed specifically with process technicians in mind to simplify the pres­sure calibration process and provide faster, more accurate test results. Technicians know that calibrating pressure can be a time-consuming task, but the 729 makes it easier than ever with an internal electric pump that provides automatic pressure generation and regulation in an in an easy-to-use, rugged, portable package.
The ideal portable pressure calibrator, the 729 allows you to simply type in a target pressure, and the calibrator will automatically pump to the desired set-point. Then, internal fine adjustment con­trol automatically stabilizes the pressure at the requested value.
The Fluke 729 can also automatically test multiple pressure test points and automatically document the results. Calibration is as easy as typing in the starting and ending pressure and the number of test points and tolerance level. The 729 does the rest.
Built-in HART communication capabilities enable HART transmitter mA adjustments, light HART configuration and the ability to adjust to applied 0% and 100% values.
Upload and manage documented calibration results with DPCTrack2™ Calibration Management Software, making it easy to manage your instrumentation, create scheduled tests and reports, and manage calibration data.
Some key features include:
• Automatic pressure generation and regulation to 300 psi
• Easily document the process using onboard test templates
• Automatic internal fine-pressure adjustment
• Measure, source and simulate 4 to 20 mA signals
• 24V loop power for powering transmitters for tests
• HART communication for testing HART smart transmitters
• Built-in leak testing for verifying test setups for leakage
For more information on the Fluke 729 Automatic Pressure Calibrator, visit the Fluke website here: http://bit.ly/2vt8w0H
Web: www.ino.com.vn | Mail: info@ino.com.vn
Tel: (+84) 028 73000184 | Hotline: 0947200184
Website: http://www.ino.com.vn Website: http://www.ino.vn
Please visit INO YouTube Channel for more Video
https://www.youtube.com/inomeasure