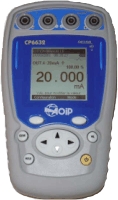 Lưu ý: Tham khảo ý kiến của nhân viên INO sẽ giúp bạn tiết kiệm được thời gian và chi phí khi cần mua sắm. ​​Với sự tư vấn của chúng tôi, bạn sẽ không gặp khó khăn khi tìm hiểu về đặc tính của sản phẩm cần mua.
Description:
The CP6632 is a Test Tool for Process Signals adding value to the instrument is the inclusion of Measurement and Generation protection for easy configuration of on site systems.
Simple and robust, the CP6632 has been designed to simplify maintenance operations and commissioning of sensors and trans- mitters using process signals such as 4-20 mA or 0-10V.
Specification:
Adapted to the different working modes of the process world thanks to scaling and different specific ranges
High precision: 150 ppm of reading
Temperature Coefficients very low: 15 ppm rdg/°C for voltage and 20 ppm rdg/°C for current: Accuracy is preserved even in difficult operating conditions
Measurement up to 50V
Simulation up to 15V
Measurement and emission up to 25mA
CP6632 cleaverly designed graphic interface makes it easy to program the device and read the measurements
Calibration Certificates:
Conformity or calibration certificates are also optionally available, but must be requested with the instrument at the time of ordering. Select required option before adding to cart.

QM05 Certificate
Simply states that the device operates within the tolerances defined in the instrument specification.

QM04 Certificate
As QM04 Certifiacte, but also lists the primary test instruments used during testing. However, no test data is provided (price available upon request)

QM01 Certificate
Full COFRAC calibration certificate. COFRAC is the French equivalent of UKAS and DKD.

Accessories:
We also offer the full range of accessories for this product.
Resource & Download
Lưu ý: Nếu một thiết bị nào đó không được liệt kê ở đây, điều đó không có nghĩa rằng chúng tôi không hỗ trợ được bạn về thiết bị đó.
Hãy liên hệ với chúng tôi
 để biết danh sách đầy đủ về thiết bị mà chúng tôi có thể hỗ trợ và cung cấp.
INO: Bán, Báo giá, tư vấn mua sắm và cung cấp, tư vấn sản phẩm thay thế; tương đương, hướng dẫn sử dụng, giá…VNĐ, …USD info@ino.com.vn | Tel: (+84) 028 73000184 | AOIP-Handheld Process Calibrator (Mode: CP 6632).