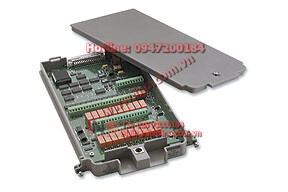 Lưu ý: Tham khảo ý kiến của nhân viên INO sẽ giúp bạn tiết kiệm được thời gian và chi phí khi cần mua sắm. ​​Với sự tư vấn của chúng tôi, bạn sẽ không gặp khó khăn khi tìm hiểu về đặc tính của sản phẩm cần mua.
The Model 7706 plug-in module offers 20 channels of 2-pole or 10 channels of 4-pole multiplexer switching with automatic CJC, as well as two analog output channels, 16 digital outputs,and one event counter/totalizer. The event counter/totalizer can be used to monitor and control system components, such as fixtures, limit switches, pass/fail indicators, external voltage sources, loads, door closures, revolutions, etc., while performing mixed signal measurements. The Model 7706 is ideal for RTD, thermistor, and thermocouple temperature applications.
20 channels of analog input (w/automatic CJC) for generalpurpose measurements

16 channels of digital output

2 analog outputs (±12V, 5mA)

300V, 1A capacity; 60W, 125VA maximum

Configurable as two independent banks of multiplexers

Relay closures stored in onboard memory
Lưu ý: Nếu một thiết bị nào đó không được liệt kê ở đây, điều đó không có nghĩa rằng chúng tôi không hỗ trợ được bạn về thiết bị đó.
Hãy liên hệ với chúng tôi
 để biết danh sách đầy đủ về thiết bị mà chúng tôi có thể hỗ trợ và cung cấp.
INO: Bán, Báo giá, tư vấn mua sắm và cung cấp, tư vấn sản phẩm thay thế; tương đương, hướng dẫn sử dụng, giá…VNĐ, …USD info@ino.com.vn | Tel: (+84) 028 73000184 | Keithley Model 7706 All-in-One I/O Module (for Models 2700, 2701, and 2750).