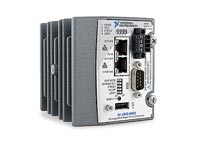 Lưu ý: Tham khảo ý kiến của nhân viên INO sẽ giúp bạn tiết kiệm được thời gian và chi phí khi cần mua sắm. ​​Với sự tư vấn của chúng tôi, bạn sẽ không gặp khó khăn khi tìm hiểu về đặc tính của sản phẩm cần mua.
Embedded controller runs LabVIEW Real-Time for deterministic control, data logging, and analysis
533 MHz processor, 2 GB nonvolatile storage, 256 MB DDR2 memory
Dual Ethernet ports with embedded Web and file servers for remote user interfacing
Hi-Speed USB host port for connection to USB flash and memory devices
RS232 serial port for connection to peripherals; dual 9 to 35 VDC supply inputs
-40 to 70 °C operating temperature range.
The NI cRIO-9023 embedded real-time controller is part of the high-performance CompactRIO programmable automation controller (PAC) platform. It features an industrial 533 MHz Freescale MPC8347 real-time processor for deterministic, reliable real-time applications and contains 256 MB of DDR2 RAM and 2 GB of nonvolatile storage for holding programs and logging data.

This rugged, reliable controller is designed for low power consumption with dual 9 to 35 VDC supply inputs that deliver power to the CompactRIO chassis/modules and a -40 to 70 °C operating temperature range. The cRIO-9023 accepts 9 to 35 VDC power supply inputs on power-up and 9 to 35 VDC power supply inputs during operation, so it can function for long periods of time in remote applications using a battery or solar power.

The controller provides two 10/100 Ethernet ports that you can use to conduct programmatic communication over the network and built-in Web (HTTP) and file (FTP) servers. The ports also are compatible with the NI 9144 C Series expansion chassis, so you can achieve more deterministic I/O for your application.

To create additional storage capability for your embedded logging applications, the cRIO-9023 has a Hi-Speed USB host port to which you can connect external USB-based storage media (flash drives and hard drives). In addition, the controller features a fault-tolerant file system that provides increased reliability for data-logging applications.
Specifications Summary
General
Product Name
cRIO-9023
Product Type
Controller (Computing Device)
Form Factor
CompactRIO
Part Number
781173-01
Operating System/Target
Real-Time
LabVIEW RT Support
Yes
CE Compliance
Yes
Controller
Controller Type
Embedded
Processor Core Type
PowerPC
CPU Clock Frequency
533 MHz
System Memory
256 MB
Legacy Product
No
Ethernet (# of ports)
2
Ethernet Port Type
100BaseTX , 10BaseT
Serial Ports (RS232)
1
USB Ports
Yes
Chassis
Number of Slots
0
Integrated Controller
No
Input Voltage Range
6 V – 35 V
Recommended Power Supply: Power
55
Recommended Power Supply: Voltage
24
Power Consumption
17
Physical Specifications
Length
77.3 mm
Width
90.2 mm
Height
88.1 mm
Weight
609 gram
Minimum Operating Temperature
-40 °C
Maximum Operating Temperature
70 °C
Maximum Altitude
2000 m
Resource & Download
Additional Product Information
Lưu ý: Nếu một thiết bị nào đó không được liệt kê ở đây, điều đó không có nghĩa rằng chúng tôi không hỗ trợ được bạn về thiết bị đó.
Hãy liên hệ với chúng tôi
 để biết danh sách đầy đủ về thiết bị mà chúng tôi có thể hỗ trợ và cung cấp.
INO: Bán, Báo giá, tư vấn mua sắm và cung cấp, tư vấn sản phẩm thay thế; tương đương, hướng dẫn sử dụng, giá…VNĐ, …USD info@ino.com.vn | Tel: (+84) 028 73000184 | National Instruments – Real-Time Controller with 256 MB DRAM, 2 GB Storage(Model: NI cRIO-9023).