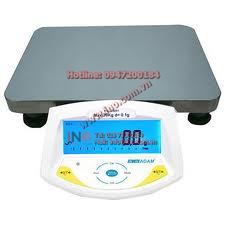 Lưu ý: Tham khảo ý kiến của nhân viên INO sẽ giúp bạn tiết kiệm được thời gian và chi phí khi cần mua sắm. ​​Với sự tư vấn của chúng tôi, bạn sẽ không gặp khó khăn khi tìm hiểu về đặc tính của sản phẩm cần mua.
Adam PGL-20001 digital scale has a weighing capacity of 20000 grams and a readability of 0.1 grams. PGL precision balances offers durability and precision coming together for a whole new class of digital scale. The 15.7" x 11.8" stainless steel weighing pan provides a large weighing platform especially useful for materials testing labs. Non-slip adjustable feet provide a friction anchor to compensate for accidental bumps to the precision balance. Modern low profile design and a color coded, sealed pad add to a simple weighing experience. Auto sleep and power down function to save battery life. A built-in rechargeable battery and AC adapter allow you to take your PGL balance anywhere, even out to the field. Adam Equipment's unique ShockProtect™ overload protection keeps the weighing mechanism safe from unwanted overloads like book bags and heavy hands.
Adam Equipment PGL20001 is a low cost digital scale since it's weigh sensor is built using strain gauge technology. Strain gauge loadcells don't provide the same performance and accuracy like magnetic force restoration (MFR) balance costing substantially more money. If you are on a budget with limited funds the PGL 20001 might be your digital scale for your weighing application, but you do get what you pay for. One benefit of a strain gauge is the scale can operate on batteries while a MFR balance has to plug into an AC power receptacle. You'll get better performance, linearity and repeatability with an electromagnetic weigh sensor like those found in the A&D GP-20K, A&D GF-20K, Mettler Toledo SB32001-GA or Sartorius CPA34001S but this weigh sensor design cost more money. If you're on a tight budget and your weighing results aren't for a super critical application then the AE PGL20001 might be your best choice.
The large backlit display with capacity tracker is easy to read and shows you how much weighing range is left when using the tare function, ensuring that you do not overload the balance.
Navigating the built in applications and weighing modes is easy with the intuitively designed keypad. Access to the main functions is quick and a special lock out feature allows the supervisor to set up access to all or selected functions so users do not inadvertently change the settings.
Communications is a snap with the built in bi-directional RS-232 interface. It interfaces with computers or printers and works with AdamDU data collection software or WinWedge balance communication software.

Resource & Download
Lưu ý: Nếu một thiết bị nào đó không được liệt kê ở đây, điều đó không có nghĩa rằng chúng tôi không hỗ trợ được bạn về thiết bị đó.
Hãy liên hệ với chúng tôi
 để biết danh sách đầy đủ về thiết bị mà chúng tôi có thể hỗ trợ và cung cấp.
INO: Bán, Báo giá, tư vấn mua sắm và cung cấp, tư vấn sản phẩm thay thế; tương đương, hướng dẫn sử dụng, giá…VNĐ, …USD info@ino.com.vn | Tel: (+84) 028 73000184 | Adam Equipment PGL20001 Precision Balance .