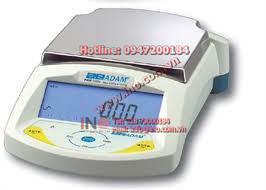 Lưu ý: Tham khảo ý kiến của nhân viên INO sẽ giúp bạn tiết kiệm được thời gian và chi phí khi cần mua sắm. ​​Với sự tư vấn của chúng tôi, bạn sẽ không gặp khó khăn khi tìm hiểu về đặc tính của sản phẩm cần mua.
PGW-4502i precision balance with internal motorized calibration offers 4500 grams maximum weighing capacity and increments 0.01 grams. Choose from 17 different units of measures including gram, kilogram, carat, grain, newton, pound, ounce, troy ounce, pennyweight, plus 1 custom weigh unit. PGW electronic balances provide outstanding precision for advanced weighing applications at affordable prices.
PGW precision top loading balances offer the level of performance students and instructors need at the best prices for high school AP studies, teacher prep, and university labs. Die cast aluminum housing, large 7.6 x 7.6 inch weighing pan, brilliant oversized display, and intuitive operation make this digital balance easy to use and highly durable. Innovative features of the PGW balances simplify even your most complex weighing applications.
PGW laboratory balances offer valuable features like track weights of tared objects and their contents. Simply using the tare key, you can automatically track every component of the weighing process, whether you need to know the value of the tared container, the goods it contains, or the total of both together. The PGW's display can show both the total gross weight and the net weight at the same time when needed.
Quality control checks made simple with the Adam PGW4502i. Filling and checking the weight of objects with this balance makes it easy to meet your quality control expectations. Set your own limits and the display will indicate when the weight is too low, too high or on the mark and a selectable warning indicates when you are on target. The software's true flexibility lets you select one or two target points. Use the capacity tracker to give you a visual perspective of your check weighing.
This precision lab balance comes with color coded keys and large LCD display for easy operation. Brilliant backlit display with 1" high digits and graphic capacity tracker. Two adjustable feet and leveling bubble insures proper and accurate readings. Weigh below hook for weighing hot or magnetic materials plus density and specific gravity measurements (under hook is an optional accessories found in the optional accessories section by scrolling further down).

Resource & Download
Lưu ý: Nếu một thiết bị nào đó không được liệt kê ở đây, điều đó không có nghĩa rằng chúng tôi không hỗ trợ được bạn về thiết bị đó.
Hãy liên hệ với chúng tôi
 để biết danh sách đầy đủ về thiết bị mà chúng tôi có thể hỗ trợ và cung cấp.
INO: Bán, Báo giá, tư vấn mua sắm và cung cấp, tư vấn sản phẩm thay thế; tương đương, hướng dẫn sử dụng, giá…VNĐ, …USD info@ino.com.vn | Tel: (+84) 028 73000184 | Adam Equipment, PGW 4502i Precision Balance .