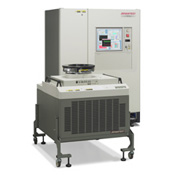 Lưu ý: Tham khảo ý kiến của nhân viên INO sẽ giúp bạn tiết kiệm được thời gian và chi phí khi cần mua sắm. ​​Với sự tư vấn của chúng tôi, bạn sẽ không gặp khó khăn khi tìm hiểu về đặc tính của sản phẩm cần mua.
Capable of 32 DUTs in Parallel Testing for 10-12 bit LCD Driver ICs
Global demand for LCD driver ICs is growing in response to an expected skyrocketing in popularity for LCD televisions, as well as liquid crystal panels for cellular phones with increasingly rich feature sets. Tracking these developments, LCD driver ICs are also growing in both pin count and functionality. This evolution, however, has added to the importance of keeping production costs low. The T6373 LCD driver test system offers an optimal solution for customers facing this paradox.
Reducing Cost of Test for LCD Drivers with Large Pin Counts
The T6373 can be equipped with a maximum of 3,072 LCD channels and 512 I/O channels. It supports four-device parallel test for 640-pin and 720-pin driver ICs, which will dominate in the future. For driver ICs with BIST circuits, it could support up to 32 driver ICs.
Support for the Newest Driver ICs
The T6373's high-speed/precision digitizer and DC (LCD ch) test unit are configured for per-pin operation. When testing many-pin/precision (10 bit/1024 gradation) driver ICs, this tester boasts throughput of up to 150% greater than that of its predecessor.
Improved Support for Leveraging Legacy (T6372) Assets
By offering legacy support for the well-established ViewpointR test software, the T6373 allows the customer to use valuable test assets, such as test program environments, test boards, and probe cards, that supported its predecessor model.
Major Specifications
Target devices
LCD source/gate driver ICs, single-chip controller driver ICs, MCUs, and MPUs
Simultaneous testing
Maximum 32 devices (software parallel test and odd-numbers of devices supported)
LCD measurement
3,072 channels (maximum), per-pin digitizer and per-pin DC section
Reference voltage source (RVS)
±32 V (maximum 160 channels)
Digital measurement section

Test frequency:125MHz
Data rate:250Mbps / 500Mbps/ 875Mbps
I/O channel count:512ch (maximum)
Resource & Download
Lưu ý: Nếu một thiết bị nào đó không được liệt kê ở đây, điều đó không có nghĩa rằng chúng tôi không hỗ trợ được bạn về thiết bị đó.
Hãy liên hệ với chúng tôi
 để biết danh sách đầy đủ về thiết bị mà chúng tôi có thể hỗ trợ và cung cấp.
INO: Bán, Báo giá, tư vấn mua sắm và cung cấp, tư vấn sản phẩm thay thế; tương đương, hướng dẫn sử dụng, giá…VNĐ, …USD info@ino.com.vn | Tel: (+84) 028 73000184 | Advantest-LCD Driver Test System (Model:T6373).