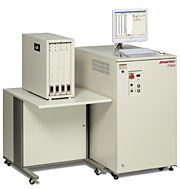 Lưu ý: Tham khảo ý kiến của nhân viên INO sẽ giúp bạn tiết kiệm được thời gian và chi phí khi cần mua sắm. ​​Với sự tư vấn của chúng tôi, bạn sẽ không gặp khó khăn khi tìm hiểu về đặc tính của sản phẩm cần mua.
Tests general-purpose logic and analog devices at low costs.
Diversification of applications such as digital home appliences, mobile-phones and office automation peripherals is giving rise together with detailed manufacturing processes to high-speed, high-accuracy and high-function general-purpose logic ICs, general purpose analog ICs, optical semiconductor devices and discrete devices.
The T7912 developed based on these device-measuring technologies cultivated in a lapse of long time is an analog test system that supports performance evaluation as well as mass production tests. It will strongly assist customers' businesses enabling high quality tests of excellent cost performance as well
The system configuration matched for intended use
An optimal system construction can be chosen according to intended-use, because it can be used on the same platform in its minimum and maximum construction.
Moreover, a maximum of up to eight simultaneous measurements of high speed and high accuracy have been realized to contribute to improvement in the throughput during mass production.
Improvement in the speed of DC examination with the high-speed par-pin DC
It is possible to measure analog pins at high speed and with high precision which increase in accordance with the loading of par-pin DC units with a maximum of 72 pins.
Device program creation tools
Since a menu-driven method is used as tools for device and program creation, device programs can be easily created. (Option Software)
Major Specifications
| | |
| --- | --- |
| Target Devices | General-purpose Logic IC, General-purpose Analog IC, Optical semiconductor device, Discrete device etc. |
| Parallel Testing | Max. 8 devices |
Basic Configuration
Device Power Supply
2 channels to max. 8 channels
±128V/±32mA, ±64V/±80mA, ±16V/±500mA, ±16V/±2A (pulse)
Power Supply for I/O
8 channels to max. 64 channels
±64V/±32mA, ±16V/±64mA
Option
High Voltage Power Supply
1 channel to 8 channels (MPX switch)
+2kV/+1mA (per 1 channel)
Time Measurement Unit
8ch (A/B×4ch)
Measurement Range 5ns to 10s
Resolution 100ps
Resource & Download
Lưu ý: Nếu một thiết bị nào đó không được liệt kê ở đây, điều đó không có nghĩa rằng chúng tôi không hỗ trợ được bạn về thiết bị đó.
Hãy liên hệ với chúng tôi
 để biết danh sách đầy đủ về thiết bị mà chúng tôi có thể hỗ trợ và cung cấp.
INO: Bán, Báo giá, tư vấn mua sắm và cung cấp, tư vấn sản phẩm thay thế; tương đương, hướng dẫn sử dụng, giá…VNĐ, …USD info@ino.com.vn | Tel: (+84) 028 73000184 | Advantest-Analog Test System (Model:T7912).