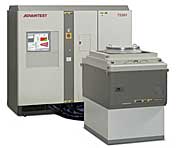 Lưu ý: Tham khảo ý kiến của nhân viên INO sẽ giúp bạn tiết kiệm được thời gian và chi phí khi cần mua sắm. ​​Với sự tư vấn của chúng tôi, bạn sẽ không gặp khó khăn khi tìm hiểu về đặc tính của sản phẩm cần mua.
Parallel Test for Up to 384 Devices.
Flexible Pin Configuration Drives Lower Cost of Test.
In the DRAM manufacturing process, shrinking geometries for 300mm wafers are taking device densities and speeds to a new level. At the same time, proliferating cellular telephones, personal computers, various digital appliances, are propelling demand for memory, particularly multilayer SIP (System-in-Package) devices.
The T5383 provides a timely response to these trends. From front-end test for DRAM to back-end test for FLASH memory, MCP/SIP, and other devices, the T5383 provides a high-throughput solution that offers flexible support for increasingly fast and versatile memory devices. In addition, T5383 high-density pin electronics deliver 50% more capacity than provided by its predecessor, T5377S, and within the same small footprint.
Reducing cost of test by maximizing parallel test, allowing flexible pin configurations
With greater test resources than those of the T5377S, the T5383 supports greater device pin counts, and allows for higher levels of parallelism: up to 384 devices, 1.5 times greater than that of its predecessor. Also, its flexible pin assignment capability makes possible parallel test with more flexibility and variety than ever before. This granularity of tester resources optimizes test-cell configurations, and further reduces cost of test.
Industry's Fastest Test, Shortest Test Times
The T5383 operates at 286MHz/572Mbps, double the speed of T5377S, making it the industry's fastest offering in this product category.
This increased speed translates into shorter test times, as well as higher fault coverage, including Known Good Die applications. Further, enhanced memory repair analyzer hardware (the MRA4ev3 and DualAFM option) delivers approximately double the throughput of previous products. Faster processing speeds and dedicated high speed data communications enable production bitmap yield learning. At the same time, they prevent analysis times from increasing, even as device counts and densities grow larger.
Compatible with previous products
The T5383 uses FutureSuite®, with its multi-language support, as its OS. FutureSuite® is compatible with the ATL language, supporting thousands of applications, and also allows programming in ADVANTEST's C-based MCI (Macro Control Interface). These capabilities enable the user to make selections tailored to evolving programming needs while leveraging existing implementations
| | |
| --- | --- |
| Target Devices | DRAM, SDRAM, DDR devices, SRAM and flash memory, EPROM, etc. |
| Simultaneous Testing | Up to 384 devices per system |
| Test Speed | 286MHz/572Mbps (in DDR mode) |
Resource & Download
Lưu ý: Nếu một thiết bị nào đó không được liệt kê ở đây, điều đó không có nghĩa rằng chúng tôi không hỗ trợ được bạn về thiết bị đó.
Hãy liên hệ với chúng tôi
 để biết danh sách đầy đủ về thiết bị mà chúng tôi có thể hỗ trợ và cung cấp.
INO: Bán, Báo giá, tư vấn mua sắm và cung cấp, tư vấn sản phẩm thay thế; tương đương, hướng dẫn sử dụng, giá…VNĐ, …USD info@ino.com.vn | Tel: (+84) 028 73000184 | Advantest-Memory Test Systems (Model:T5383).