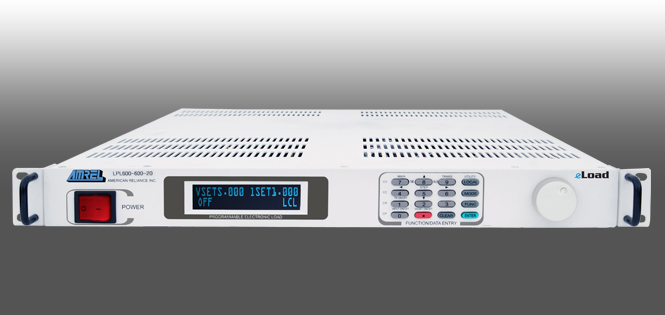 Lưu ý: Tham khảo ý kiến của nhân viên INO sẽ giúp bạn tiết kiệm được thời gian và chi phí khi cần mua sắm. ​​Với sự tư vấn của chúng tôi, bạn sẽ không gặp khó khăn khi tìm hiểu về đặc tính của sản phẩm cần mua.
LPL SERIES OF LOW-PROFILE PROGRAMMABLE ELECTRONIC LOADS (150W-800W)
In ATE System Applications, rack space is a highly coveted asset. Traditional modular loads require at least 3U (5.25") of rack space, additional mainframe cost, and is limited in power rating, typically below 300W.
Why spend your rack space and budget when you don't need to?
As a member of the eLoad line of programmable dc electronic loads, the LPL Series' uniquely compact air-cooled electronic load offers an ideal solution for space-restricted test system environments. AMREL's LPL Series of "Low-profile" Programmable dc Electronic eLoads occupies only 1U (1.75") of rack space, while offering the industry's highest power density, making it an ideal ATE solution. With the industry's widest model selection, the LPL Series ranges from 150W to 800W without the added cost of a mainframe or sacrificing valuable rack space. For an economical solution with all the necessary ATE capabilities in an ultra-compact package, the LPL eLoad is your clear choice!
If your electronic load requirements exceed the LPL's standard product offering, ask about AMREL's customized optionsdesigned to fit your unique application needs. As with the entire eLoad line of electronic loads, the LPL's exceptional features and benefits make it an outstanding piece of automated test equipment for a multitude of electronic load markets and applications.
____________________________________________________________________________________________
LPL Series Markets and Applications
• Battery/Energy Storage/Ultracapacitor Testing and Validation
• dc Power Supply and Battery Charger Validation and Testing
• Fuel Cell Durability, Lifetime and Performance Characterization
• Single Cell and Short Stack Fuel Cell Characterization
• EIS/Impedance Measurement
• Defense/Aerospace and Avionics ATE, Electronics and Power Sources Testing
• Thin-film, Single- & Poly-silicone PV Design Validation and Testing
• Power Supply, Power Electronics/Components Validation and Testing
• Industrial Applications: Generator/Alternator, UPS/Battery Banks, Datacenter Backup Power,
• and Automotive Power Electronics & Components
• Lab/Bench-top Applications: Ideal for R &D, Testing and QC Engineers
• Power Electronics/Components, dc Distribution, & dc-dc Converters
• Universities and National Research Labs
Resource & Download
Lưu ý: Nếu một thiết bị nào đó không được liệt kê ở đây, điều đó không có nghĩa rằng chúng tôi không hỗ trợ được bạn về thiết bị đó.
Hãy liên hệ với chúng tôi
 để biết danh sách đầy đủ về thiết bị mà chúng tôi có thể hỗ trợ và cung cấp.
INO: Bán, Báo giá, tư vấn mua sắm và cung cấp, tư vấn sản phẩm thay thế; tương đương, hướng dẫn sử dụng, giá…VNĐ, …USD info@ino.com.vn | Tel: (+84) 028 73000184 | Amrel-LOW-PROFILE PROGRAMMABLE ELECTRONIC LOADS (Model:LPL SERIES).