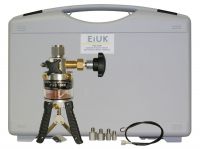 Lưu ý: Tham khảo ý kiến của nhân viên INO sẽ giúp bạn tiết kiệm được thời gian và chi phí khi cần mua sắm. ​​Với sự tư vấn của chúng tôi, bạn sẽ không gặp khó khăn khi tìm hiểu về đặc tính của sản phẩm cần mua.
The EiUK handheld pressure test pump PGS-1000 is the ideal tool for applying test pressures to sensors, gauges, pressure switches and any pressure device. It is a low cost solution for field and workshop use and can be supplied with the wide range of EiUK digital pressure indicators and pressure calibrators, or for OEM applications.
The EiUK PGS-1000 hydraulic pump work with a variety of different fluids, including water and oil to easily generate pressures up to 1000 bar / 14'500 psi. The pump uses an unique "switch" which allows for fast priming or filling of the test system and then switching as needed to a smaller stroke for easier generation at high pressure.
The desired pressure point can be easy turned by using the vernier control and a precision needle vent valve allows for controlled venting.
The EiUK PGS-1000 handheld pressure test pump can be supplied as a bare pump or in kit form with a hard transit case, set of adapters, seals and hose.
PGS-1000 Benefits and Features
Hydraulic pressure capacity up to 1000 bar
Integral fine control for accurate set point
Controlled pressure relief valve
Priming operation
Fluid compatible
Scissor acting pump
PGS-1000 Technical Specification
Technical Specification:
Operating pressure range:
0 to 1000 bar
Pressure media:
oil/water
Fine adjustment resolution:
10 to 100 mbar
Reference port pressure connection:
3/8" NPT (F)
Reference port standard adaptor:
3/8" BSP (F)
Test point pressure connection:
1/4" BSP (F)
Hose extension:
option
Weight:
1.6 Kg
PGS-1000 Applications
Test and Calibration of very High Pressure gauges, transmitters, pressure indicators
Generate vacuum and pressure from 0 to 1000 bar
Ideal to be used with any reference pressure device
SkyDrol Fluid compatible ( Sky droll version)
PGS-1000 Hydraulic Test Kits
Hydraulic test kit for high pressure testing includes:
PGS-1000-OEM pump
Set of BSP or NPT adaptors (to be specified)
HTH-1000-1 high pressure hose, 1 meter
PGS-A-G14 adaptor for HTH-1000 hose
Set of seals
Robust ABS transit case with customised foam and cells
Resource & Download
Lưu ý: Nếu một thiết bị nào đó không được liệt kê ở đây, điều đó không có nghĩa rằng chúng tôi không hỗ trợ được bạn về thiết bị đó.
Hãy liên hệ với chúng tôi
 để biết danh sách đầy đủ về thiết bị mà chúng tôi có thể hỗ trợ và cung cấp.
INO: Bán, Báo giá, tư vấn mua sắm và cung cấp, tư vấn sản phẩm thay thế; tương đương, hướng dẫn sử dụng, giá…VNĐ, …USD info@ino.com.vn | Tel: (+84) 028 73000184 | AOIP-Handheld Pressure Test Pump (Model:EiUK PGS-1000).