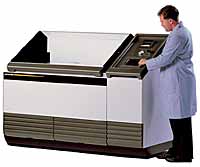 Lưu ý: Tham khảo ý kiến của nhân viên INO sẽ giúp bạn tiết kiệm được thời gian và chi phí khi cần mua sắm. ​​Với sự tư vấn của chúng tôi, bạn sẽ không gặp khó khăn khi tìm hiểu về đặc tính của sản phẩm cần mua.
 Basic cyclic tests are used to qualify a coating or material for a specific end use on a pass-fail basis, or determine the probability of corrosion of a specific material.
Applications include: Aerospace, Appliances, Automotive, Government, Marine Craft, Paints/Coatings, Research, and Telecommunications.
FEATURES
Reinforced fiberglass cabinet, exposure lined with gel coat
Solution reservoir – 35 gal (132L)
Clear cover with dual magnetic Santoprene gasket (BCX9000 comes with opaque Polypropylene cover)
Peaked cover prevents dripping of condensate onto sampl
Exposure zone heated by titanium rod heater
Heated humidifying (bubble) tower with air relief valve
Exposure zone temperature up to 131 °F (55 °C) – Hight temperature option up to 160 °F (71 °C)
Omni-Fog Dispersion Tower or Omni-Fog II Dispersion System, fully adjustable. Built-in support ledges, front and back
Wet Bottom Drain Assembly; heated, with auto fill for higher and more uniform humidity (n/a BCX11000)
Air-assisted Cover Lifters on BCX9000 and BCX11000
Specifications and Dimensions (Testing Volume, Exposure Zone Dimensions, External Dimensions)
BCX2000 – 565L, 1.27 x 0.74 x 0.63 m, 1.93 x 0.9 x 1.4 m
BCX3000 – 850L, 1.91 x 0.74 x 0.63 m, 2.46 x 0.9 x 1.4 m
BCX4000 – 1130L, 1.91 x 0.94 x 0.63 m, 2.46 x 1.1 x 1.4 m
BCX9000 – 2550L, 1.93 x 1.14 x 1.16 m, 2.69 x 1.32 x 2.16 m
BCX11000 – 3115L, 2.27 x 1.86 x 0.76 m, 2.82 x 2.29 x 1.83 m
OPTIONS
Combination exhaust condenser and wet bottom drain assembly
Recorder, 2-pen circular chart, digital display, 7 day, wet bulb and dry bulb
Recorder, 6 channel strip chart; 4 temperature probes and air pressure
Modem for remote trouble shooting
Solution spray, two-nozzle
External condensate collection package
High voltage kit (over 460 VAC)
Gas injection system for SO2, CO2, NOx
High capacity oil & water extractor
Custom sizes (extra height or any LxW) and configurations (pass-through electrical/mechanical ports)
Air-actuated Cover; required for tests specifying ambient conditions
Solution Spray; multiple nozzles (8, 12 or 16) with individual shut-off valves
CE, UL CSA Conformance certifica
High Temperature System, to operate BCX up to 71ºC / 160ºF BCX2000/BCX3000/BCX4000/BCX9000/BCX11000
SO2 Injection; for customer-supplied SO2, customer-supplied fume hood recommended
Data Recording Software; PC based, sends data to customer's computer
ACCESSORIES
60 Gallon / 227 Liter Reservoir with Pump
BCX Exhaust Recirculation System
Fiberglass Bracket
Fiberglass Rod
Heavy Duty Support
Panel Holder, slotted
Paper for 2 Pen Circular Chart Recorder
Power Exhaust Kit
Spare Parts Maintenance Kit
Start-up Kit
weight per support 165 lbs / 75 kg BCX11000 (max of 3)
weight per support 165 lbs / 75 kg BCX3000 (max of 3)
weight per support 165 lbs / 75 kg BCX4000 (max of 3)
weight per support 165 lbs / 75 kg BCX9000 (max of 3)
STANDARDS
ASTM D5894
Standard Practice for Cyclic Salt Fog/UV Exposure of Painted Metal, (Alternating Exposures in a Fog/Dry Cabinet and a UV/Condensation Cabinet)
ISO 7253
Paints and varnishes – Determination of resistance to neutral salt spray (fog)
ISO 9227
Corrosion tests in artificial atmospheres – Salt spray tests
Resource & Download
Lưu ý: Nếu một thiết bị nào đó không được liệt kê ở đây, điều đó không có nghĩa rằng chúng tôi không hỗ trợ được bạn về thiết bị đó.
Hãy liên hệ với chúng tôi
 để biết danh sách đầy đủ về thiết bị mà chúng tôi có thể hỗ trợ và cung cấp.
INO: Bán, Báo giá, tư vấn mua sắm và cung cấp, tư vấn sản phẩm thay thế; tương đương, hướng dẫn sử dụng, giá…VNĐ, …USD info@ino.com.vn | Tel: (+84) 028 73000184 | Basic cyclic tests (Model : BCX Basic Cyclic Corrosion Cabinet).