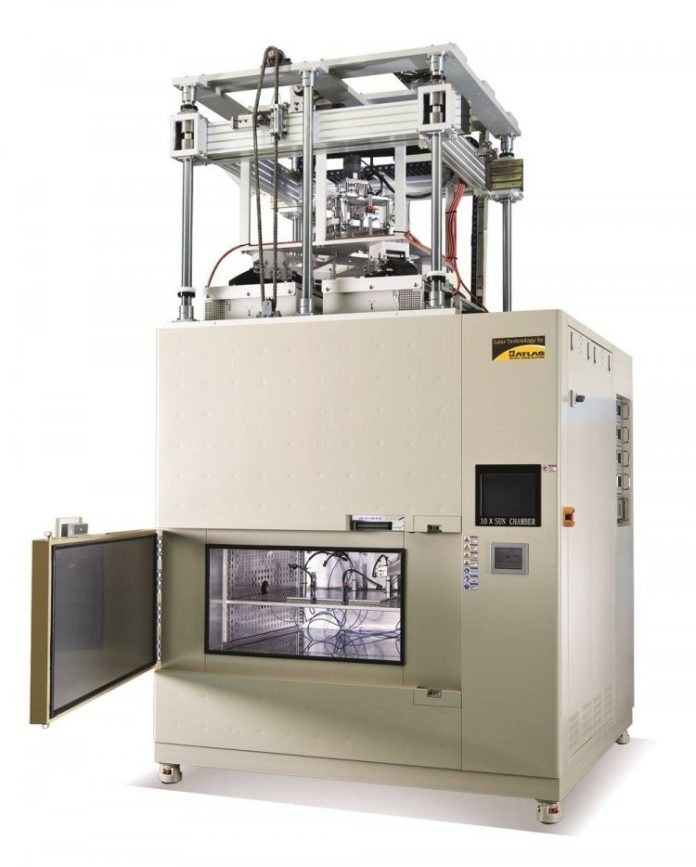 Lưu ý: Tham khảo ý kiến của nhân viên INO sẽ giúp bạn tiết kiệm được thời gian và chi phí khi cần mua sắm. ​​Với sự tư vấn của chúng tôi, bạn sẽ không gặp khó khăn khi tìm hiểu về đặc tính của sản phẩm cần mua.
The SEC 10 SUN is part of the Solar Technology by Atlas market approach offering integrated, ready-to-use test chambers for various solar and environmental applications. The product combines environmental simulation with metal halide lighting technology. The SEC 10 SUN chamber is a very high solar intensity test instrument for accelerated testing. Moving 4 MHG luminaries up and down to high precise linear and angular positions, the SEC 10 SUN instrument offers an adjustable solar irradiation range from 1000 W/m2 to 10000 W/m2. Mini module cells up to 40 cm x 40 cm can be tested on an exposure plane of 1600 cm2 following uniformity Class B.
FEATURES
Test chamber capacity approx. 14,600L
Radiation area approx. 25,200 cm2

Lamp: 9x MHG 4,000W Luminary

Intensity: 1000W ~ 3,200W / m2 (Adjustable)

Wavelength: 280 ~ 3,000nm(Full Spectrum)

-10 ~ + 90 °C(W/O Radiation)

0 ~ + 90 °C(W/ Radiation)

12.1" color touch screen Graphic User interface

Intuitive control features and easy-to-use programming logic

6 Channel DAQ integrated for temperature sensors

Multi-source temperature control pre-implemented and selectable in user interface

Pre-wired for BST (Black Standard Temperature) sensor and control

Pre-wired for plug-and-play radiometer for irradiance measurement

Galvanized steel with powder coated exterior

Engineered diffusive reflective stainless steel inner testing chamber for optimum spatial uniformity

Easy access swing doors to luminary systems

Robust refrigeration system for precision control of environmental parameters

Multi-stage safety features
STANDARDS
IEC 60904-9
Resource & Download
Lưu ý: Nếu một thiết bị nào đó không được liệt kê ở đây, điều đó không có nghĩa rằng chúng tôi không hỗ trợ được bạn về thiết bị đó.
Hãy liên hệ với chúng tôi
 để biết danh sách đầy đủ về thiết bị mà chúng tôi có thể hỗ trợ và cung cấp.
INO: Bán, Báo giá, tư vấn mua sắm và cung cấp, tư vấn sản phẩm thay thế; tương đương, hướng dẫn sử dụng, giá…VNĐ, …USD info@ino.com.vn | Tel: (+84) 028 73000184 | Atlas – solar and environmental testing (Model :SEC 10 SUN).