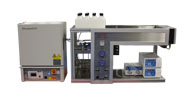 Lưu ý: Tham khảo ý kiến của nhân viên INO sẽ giúp bạn tiết kiệm được thời gian và chi phí khi cần mua sắm. ​​Với sự tư vấn của chúng tôi, bạn sẽ không gặp khó khăn khi tìm hiểu về đặc tính của sản phẩm cần mua.
The Model 5400 Dynamic Scale Deposition Loop fully automated system includes hardware and software to measure and evaluate the performance of scale inhibitors under high pressure and high temperature conditions.

The system consists of a test section of tubing placed within a convection oven providing exceptional temperature control. Samples are pumped through the tubing at known rates while measuring the differential pressure across the test section. Scale formation inside the test section is indicated by an increase in differential pressure. Once the pressure reaches an adjustable threshold value, the test is complete and an automated clean-up phase automatically begins. The pH of the fluid can be measured downstream of the test section.

Prior to the test section, two lengths of coiled tubing inside the oven are used to pre-heat the samples to the pre-determined test temperature. Two manual set-point back pressure regulators (high or low range) are used to create the sample pressure inside the test section during pumping. Fluids are transported through the tubing via two HPLC pumps, both with switching valves (6-port) for various anion, cation, scale inhibitor or cleaning fluids.

The software is designed for ease of use, and powerful enough to calculate and collect all required data during the test cycle. The software allows the operator control over flow rate, test time, fluid selection and temperature of each individual test. All data and test parameters are stored in a test-specific .CSV file for analysis.
Features:
• Forced Air Convection Oven
• Removable Sample and Pre-heat Tube Assembly
• External pH Electrode with Sample
• Hastelloy C276 Sample Tubing and Fittings Inside Oven
• HPLC Sample Injection Pumps Equipped with Six Inlet Streams
• Sample Injection Scheduling with Automatic Loop Cleanup
• Microsoft Windows Based Control and Data Acquisition

Pumping system
Maximum Pressure: 5,800 PSI
Flow Rate: 10 mL/Minute Maximum
Temperature Range: 500 oF Maximum (pH Measured at Ambient Temp)

HPLC Pumps – 6 port Switching Valves, with 3-way Solenoid for Flushing System with DI Water
Test Section Lengths – 3' and 10', Interchangeable
Back Pressure Regulator (Low Range): 0 – 800 PSI
Back Pressure Regulator 2 (High Range): 0 – 5,800 PSI

Utilities:
Power Requirements: 120 VAC 50/60 Hz, 10A (Oven)
120 VAC 50/60 Hz, 500 Watt (System) -Uninterrupted Power Supply Recommended
Water: 20-30 psi, 1 gpm max
Dimensions: (w x d x h): 80" x 28" x 40"
Resource & Download
Lưu ý: Nếu một thiết bị nào đó không được liệt kê ở đây, điều đó không có nghĩa rằng chúng tôi không hỗ trợ được bạn về thiết bị đó.
Hãy liên hệ với chúng tôi
 để biết danh sách đầy đủ về thiết bị mà chúng tôi có thể hỗ trợ và cung cấp.
INO: Bán, Báo giá, tư vấn mua sắm và cung cấp, tư vấn sản phẩm thay thế; tương đương, hướng dẫn sử dụng, giá…VNĐ, …USD info@ino.com.vn | Tel: (+84) 028 73000184 | Chandler Engineering-Dynamic Scale Deposition Loop System (Model:5400).