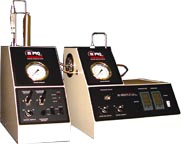 Lưu ý: Tham khảo ý kiến của nhân viên INO sẽ giúp bạn tiết kiệm được thời gian và chi phí khi cần mua sắm. ​​Với sự tư vấn của chúng tôi, bạn sẽ không gặp khó khăn khi tìm hiểu về đặc tính của sản phẩm cần mua.
A Critical Tool for Oil Well Cement Testing
Recent research into the long-term performance of oilfield cement has made it clear that the cement's mechanical properties, not just its compressive strength, are critical to the long-term integrity of the well. With a technological breakthrough (US patent #6941819), Chandler Engineering has developed the first high-pressure, high-temperature instrument designed specifically to measure the mechanical properties of oil field cements.

The Model 6265 Mechanical Properties Analyzer (MPRO) continuously measures the elastic mechanical properties (Poisson's ratio, Young's modulus, Bulk Modulus) and compressive strength of API cement as it cures under high-temperature and high-pressure conditions. These results enable the optimization of the cement's formulation for long-term performance.

A Proven, Reliable Technique
Ultrasonic cement analyzers (UCA) are widely used to determine compressive strength during curing. The Model 6265 MPRO is a unique, specialized UCA that uses proven, proprietary ultrasonic analysis techniques to perform its measurements. The instrument's single vessel curing technique preserves the sample conditions and testing integrity throughout the test thereby eliminating damage to the sample from handling or from unrealistic induced stresses caused by cooling and depressurization.

Operational Simplicity
The various acoustic measurements are read by an internal computer which automatically performs the numerous complex calculations. All test data including the mechanical property results are then transferred to a computer which is running Chandler's Model 5270 Data Acquisition Software.
The software produces real-time graphs of the test parameters and the measured mechanical properties. These graphs can be printed at any point during testing. All test data is recorded on the computer's disk drive as the test progresses so that data is not lost in the event of a power failure. The Model 5270 software is capable of monitoring multiple Chandler Engineering instruments so only one computer is needed in the lab thereby saving valuable space.
Features
• Real-Time Observation of Mechanical Properties Development
• Used To Predict WOC Time
• Non-Destructive Method
• Uses Proven Industry Standard Algorithms

Measurements: Poisson's Ratio, Young's Modulus, Bulk Modulus, Compressive Strength
Maximum Temperature: 400°F / 204°C
Maximum Pressure: 7,500 psi / 52 MPa

Utilities
Power: 220 VAC, ±15%, 50/60 Hz, 0.75 kVA
Compressed air: 75-125 psi intermittent flow with five gallon (20 liter) reservoir tank
Water: Clean water 5-150 psi
Coolant: Clean water or Ethylene glycol solution
Drain: Suitable for hot water temperatures that may exceed 200°F / 93°C

Dimensional Information
6265 MPRO (w x d x h) 18 in. x 17 in. x 16 in. / 46 x 43 x 41 cm—57 lb / 26 kg
6265-I Intensifier 9 in. x 19 in. x 25 in. / 23 x 48 x 64 cm – 118 lb / 54 kg

Shipping Information
(w x d x h) 36 in. x 36 in. x 49 in. / 91 x 91 x 124 cm—243 lb / 110 kg
Resource & Download
Lưu ý: Nếu một thiết bị nào đó không được liệt kê ở đây, điều đó không có nghĩa rằng chúng tôi không hỗ trợ được bạn về thiết bị đó.
Hãy liên hệ với chúng tôi
 để biết danh sách đầy đủ về thiết bị mà chúng tôi có thể hỗ trợ và cung cấp.
INO: Bán, Báo giá, tư vấn mua sắm và cung cấp, tư vấn sản phẩm thay thế; tương đương, hướng dẫn sử dụng, giá…VNĐ, …USD info@ino.com.vn | Tel: (+84) 028 73000184 | Chandler Engineering-Mechanical Properties Analyzer (Model:6265).