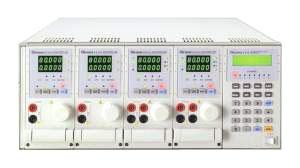 Lưu ý: Tham khảo ý kiến của nhân viên INO sẽ giúp bạn tiết kiệm được thời gian và chi phí khi cần mua sắm. ​​Với sự tư vấn của chúng tôi, bạn sẽ không gặp khó khăn khi tìm hiểu về đặc tính của sản phẩm cần mua.
Key Features:
Improve operating speeds of load for auto test system integration
Synchronous paralleling control mode, allow Synchronous load control under static and dynamic Loading mode up to 6000W
Up to 8 channels in one mainframe, fit for testing Multiple output SMPS.
GPIB/RS-232/USB Interface
Max Power: 200W, 100W x 2(Dual), 30W&250W, 300W, 600W, 1200W
Voltage Range: 0~80V / 0V~500V
CC, CR, CV, CP operating modes
Dynamic loading with speed up to 20kHz
Programmable slew rate, up to 10A/μs
Only need 1V to draw rated current
Individual panel meters
Real time power supplies load transient response simulation and output measurement
16-bit precision voltage and measurement with dual-range selection
Remote sensing capability
Short circuit test
Self-test at power-on
CE marking
Chroma Model 6330A series high speed DC electronic improves CPU clock, baud rate, parser and added synchronic parallel function for fast operation, which is ideal for auto test system integration to increase your manufacturing test throughput. Plugging the user selectable load modules into the system mainframe can also provide easy system configuration and future reconfiguration configure the system.
The 6330A family offers 8 types of modular loads with power ranging from 30 watts to 1200 watts, current from 0.5mA to 240A, and voltage measurement from 0.5mV to 500V. Each load is isolated and floating, programmable in dual current range and measuring voltage range, and capable of synchronizing with other modules for control operating. The load can be operated in constant current, constant voltage, and constant resistance.
With Synchronic parallel control capability, 6330A series loads allow users to parallel and synchronize more than one load together from an internal loading control signal. This feature provides synchronic dynamic loading test for multi-output power and high power test solution.
Real time measurement of voltage, current, is integrated into each 6330A load module using a 16-bit precision measurement circuit. The user can perform on line voltage measurement and adjustment, or simulate short circuit test using the simple keypad on the front panel.
The 6330A have self-diagnosis routine to maintain instrumental performance all the time. It is also protected against OP, OC, OT protection, and alarm indicating OV, reverse polarity to guarantee quality and reliability for even the most demanding engineering testing and ATE application.
The FET technology accomplishes minimum input resistance and enables the load to sink high current even at very low voltage. For example, model 63303A is capable of sinking 60A at 1V output, and well-suited for testing the new 3V low voltage power supplies. Low voltage operation, down to zero volt, is possible at correspondingly reduced current level. (see below)
Resource & Download
Lưu ý: Nếu một thiết bị nào đó không được liệt kê ở đây, điều đó không có nghĩa rằng chúng tôi không hỗ trợ được bạn về thiết bị đó.
Hãy liên hệ với chúng tôi
 để biết danh sách đầy đủ về thiết bị mà chúng tôi có thể hỗ trợ và cung cấp.
INO: Bán, Báo giá, tư vấn mua sắm và cung cấp, tư vấn sản phẩm thay thế; tương đương, hướng dẫn sử dụng, giá…VNĐ, …USD info@ino.com.vn | Tel: (+84) 028 73000184 | Chroma ATE-High Speed DC Electronic Load (Model: 6330A series).