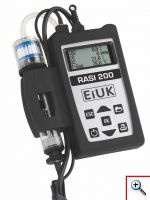 Lưu ý: Tham khảo ý kiến của nhân viên INO sẽ giúp bạn tiết kiệm được thời gian và chi phí khi cần mua sắm. ​​Với sự tư vấn của chúng tôi, bạn sẽ không gặp khó khăn khi tìm hiểu về đặc tính của sản phẩm cần mua.
Suitable for gas, oil and wood fired boilers, RASI 200C is the smallest and held combustion analyser available in the market.
RASI 200C is designed for commercial installations and it is the obvious choice for professional heating engineers and installers.
CO (H2) compensated 0-8000 ppm
Display O2, CO, CO2, ratio, Ex Air, temperature and pressure, draught
Measure differential temperature
Perform let by, stabilization and tightness test
Perform CO test
Tested to BS 7967 and BS EN 50379
5 years limited warranty
Supplied with standard 300 x 8 mm robust flue gas probe
Blue Tooth wireless communication
Combustion Parameters



O2 measurement
0 to 21 % Volume
CO measurement (H2 compensated)
0 to 8000 ppm
Efficiencies (net, gross, condensing)
0 to 120 %
Flue Gas Loss
0 to 99.9 %
CO2 (calculated)
0 to CO2 Max
CO/CO2 Ratio
0 – 0.9999
Temperature and Pressure measurement
Temperature measurement
(direct and differential)
-50°C to 1200°C
Draught
-5 to 35 mbar/hPa
Pressure (gauge and differential)
±300.00 mbar/hPa
Data Memory and digital communication
100 sites
standard
Mini USB
standard
Blue Tooth
Optional
Software
standard
Fuels
Nat Gas, LPG, Heavy/Light Oil, Kerosene, Butane, Propane, Wood Dry, Wood Pellets
General specifications
Power
Rechargeable Ni-Mh Pack
Battery Life
8 hours continuous
AC Adapter (through Mini USB)
220/240 VAC, 50/60 Hz
Dimension
(with sleeve)
80 x 145 x 35 mm
90 x 145 x 43 mm
Weight
500 g / 900 g with sleeve
Operating temperature
+5…+45°C
Storage temperature
-20 to +60°C
Display
LED, 4 lines, Backlight
Warranty
1 year analysers and cells
Warranty (Rolling)
5 years when serviced annually by EiUK Ltd.
Lưu ý: Nếu một thiết bị nào đó không được liệt kê ở đây, điều đó không có nghĩa rằng chúng tôi không hỗ trợ được bạn về thiết bị đó.
Hãy liên hệ với chúng tôi
 để biết danh sách đầy đủ về thiết bị mà chúng tôi có thể hỗ trợ và cung cấp.
INO: Bán, Báo giá, tư vấn mua sắm và cung cấp, tư vấn sản phẩm thay thế; tương đương, hướng dẫn sử dụng, giá…VNĐ, …USD info@ino.com.vn | Tel: (+84) 028 73000184 | EiUK EUROTRON-Flue Gas Analyser (Model:RASI 200C) .