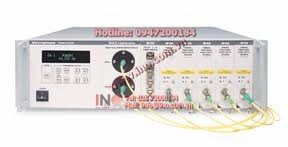 Lưu ý: Tham khảo ý kiến của nhân viên INO sẽ giúp bạn tiết kiệm được thời gian và chi phí khi cần mua sắm. ​​Với sự tư vấn của chúng tôi, bạn sẽ không gặp khó khăn khi tìm hiểu về đặc tính của sản phẩm cần mua.
The FOM-7900B is a high-performance fiber-optic test and development platform with eight channels supporting plug-in laser source and fiber optic switch modules. This system provides a cost-effective solution for WDM and CWDM test applications including EDFA, SOA, and fiber optic component characterization.
Front panel plug-in modules are offered at user-specified wavelengths from 1475-1625nm including service channels at 1310, 1480, 1510, and 1625nm. Each channel can be tuned over a 1.7nm range with 0.001nm resolution. These sources can be customized to meet special requirements including fiber optic connector type, PM alignment and fiber, and center wavelength on ITU grid points.
For higher density WDM system requirements, up to 25 additional FOM-7900B mainframes can be linked together for a total of 200 channels, all controlled from a single GPIB address.
8 channels of user-selectable laser source modules

±3pm wavelength stability with ±0.003dB power stability

Customer specified WDM DFB sources covering S, C, and L-bands at up to 20mW per channel

Internal synchronous modulation to 500kHz

Fiber optic switch modules available

GPIB/IEEE488 and RS-232 interfaces
Resource & Download
Lưu ý: Nếu một thiết bị nào đó không được liệt kê ở đây, điều đó không có nghĩa rằng chúng tôi không hỗ trợ được bạn về thiết bị đó.
Hãy liên hệ với chúng tôi
 để biết danh sách đầy đủ về thiết bị mà chúng tôi có thể hỗ trợ và cung cấp.
INO: Bán, Báo giá, tư vấn mua sắm và cung cấp, tư vấn sản phẩm thay thế; tương đương, hướng dẫn sử dụng, giá…VNĐ, …USD info@ino.com.vn | Tel: (+84) 028 73000184 | ILX Lightwave, Multi-Channel Fiber Optic Test System (FOM-7900B).