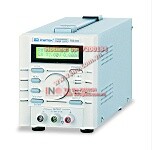 Lưu ý: Tham khảo ý kiến của nhân viên INO sẽ giúp bạn tiết kiệm được thời gian và chi phí khi cần mua sắm. ​​Với sự tư vấn của chúng tôi, bạn sẽ không gặp khó khăn khi tìm hiểu về đặc tính của sản phẩm cần mua.
The PSH-Series are single output from 360 to 1080W, programmable switching DC power supplies. OVP, OCP, and OTP protect the power supply and loads from unexpected conditions. Remote sensing adds an extra level of precision by compensating cable losses between loads. The bright LCD with simultaneous parameter outputs allows effortless operation. Self-test and software calibration features also reduce maintenance efforts. SCPI commands and LabVIEW driver access through the RS-232C or the optional GPIB interface allow remote control and ATE software development. Modular architecture, dedicated rear-panel output, and the 19 inch 4U rack mounting option ensure that the PSH-Series is optimized for large systems.

Wide input voltage range and high power factor (P.F)
high efficiency and high power density
Constant voltage and constant current operation
Over voltage over current and over temperature protection
Low ripple and noise
Output on/off control
Self-test and software calibration
Labview driver
Standard interface : RS-232C
Optional interface : GPIB ( IEEE-488.2 )
Resource & Download
Lưu ý: Nếu một thiết bị nào đó không được liệt kê ở đây, điều đó không có nghĩa rằng chúng tôi không hỗ trợ được bạn về thiết bị đó.
Hãy liên hệ với chúng tôi
 để biết danh sách đầy đủ về thiết bị mà chúng tôi có thể hỗ trợ và cung cấp.
INO: Bán, Báo giá, tư vấn mua sắm và cung cấp, tư vấn sản phẩm thay thế; tương đương, hướng dẫn sử dụng, giá…VNĐ, …USD info@ino.com.vn | Tel: (+84) 028 73000184 | Instek, Programmable DC Power Supply (PSH Series).