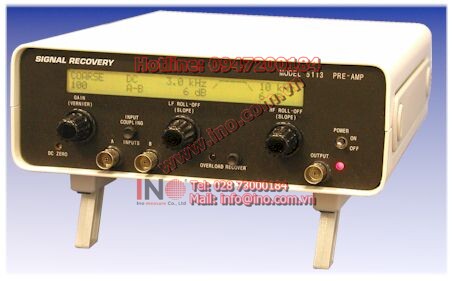 Lưu ý: Tham khảo ý kiến của nhân viên INO sẽ giúp bạn tiết kiệm được thời gian và chi phí khi cần mua sắm. ​​Với sự tư vấn của chúng tôi, bạn sẽ không gặp khó khăn khi tìm hiểu về đặc tính của sản phẩm cần mua.
The model 5113 is a high performance, low noise voltage preamplifier with continuously adjustable gain and optional high, low or bandpass filtering. Its input can be configured for either single-ended or true differential operation with either DC or AC coupling, and its output will deliver up to 2 V peak to peak into a 50 Ω load.
All the principal instrument controls are operated via the three front-panel rotary knobs and a back-lit LCD display shows their present settings. The instrument also includes an optically isolated bi-directional RS232 interface allowing remote operation and interrogation of all controls. Since in some experiments even the very low levels of noise generated by the internal microprocessor that supports these capabilities may cause problems, the unit includes a "sleep" function whereby every source of digital noise is turned off after a predetermined interval. When in the sleep mode the unit "wakes up" as soon as any control is adjusted and goes back to sleep when adjustment is complete.
The unit can either be continuously line-powered from the supplied model PS0108 power supply, or be run from the internal rechargeable batteries which are charged whenever the power supply is connected. Battery operation often allows troublesome line frequency pick-up to be eliminated, as well as permitting operation away from a source of line power.
If the signal of interest is limited to a single frequency or narrow range of frequencies then the signal channel filters allow selective amplification of the signal, making subsequent signal measurement, for example on an oscilloscope or a lock-in amplifier, easier. The filters can be switched out of use to give a flat frequency response.
The model 5113 will find uses in applications as diverse as radio astronomy and audiometry or for independent use in test and measurement, process control and general purpose signal amplification and is ideally suited to work with our range of lock-in amplifiers.
Software support is available in the form of a LabVIEW driver supporting all instrument functions, and the Acquire™ data acquisition software. The driver and a demonstration version of the software, DemoAcquire, are available for download from this site.
Resource & Download
Lưu ý: Nếu một thiết bị nào đó không được liệt kê ở đây, điều đó không có nghĩa rằng chúng tôi không hỗ trợ được bạn về thiết bị đó.
Hãy liên hệ với chúng tôi
 để biết danh sách đầy đủ về thiết bị mà chúng tôi có thể hỗ trợ và cung cấp.
INO: Bán, Báo giá, tư vấn mua sắm và cung cấp, tư vấn sản phẩm thay thế; tương đương, hướng dẫn sử dụng, giá…VNĐ, …USD info@ino.com.vn | Tel: (+84) 028 73000184 | Low-Noise Voltage Preamplifier (5113).