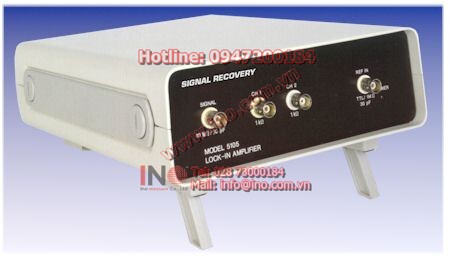 Lưu ý: Tham khảo ý kiến của nhân viên INO sẽ giúp bạn tiết kiệm được thời gian và chi phí khi cần mua sắm. ​​Với sự tư vấn của chúng tôi, bạn sẽ không gặp khó khăn khi tìm hiểu về đặc tính của sản phẩm cần mua.
The model 5105 is a compact dual-phase lock-in amplifier ideal for many signal recovery applications not demanding the performance offered by more sophisticated units in the SIGNAL RECOVERY range. It does not incorporate controls for manual operation but instead is operated entirely via a RS232 interface using simple ASCII character string commands. This approach allows the unit to be located closer to the signal source than is the case with PC card based instruments, thereby improving performance.
The instrument uses two switching type demodulators to measure the magnitude of the of the input signal in-phase (X) and in quadrature (Y) with the applied reference signal, and outputs both analog and digital representations of these components. The analog outputs are provided at front panel BNC connectors whilst the digital values, and in addition the resulting signal vector magnitude and phase angle, are available as responses to RS232 commands.
The signal channel includes high and low-pass filters which can be set to "bracket" the signal of interest thereby further improving the noise rejection, whilst the reference channel will operate from an external TTL or analog reference waveform.
Included with each unit is a copy of 5105Acquire, a simple but versatile Windows software package, giving access to all the instrument's controls and outputs.

Resource & Download
Lưu ý: Nếu một thiết bị nào đó không được liệt kê ở đây, điều đó không có nghĩa rằng chúng tôi không hỗ trợ được bạn về thiết bị đó.
Hãy liên hệ với chúng tôi
 để biết danh sách đầy đủ về thiết bị mà chúng tôi có thể hỗ trợ và cung cấp.
INO: Bán, Báo giá, tư vấn mua sắm và cung cấp, tư vấn sản phẩm thay thế; tương đương, hướng dẫn sử dụng, giá…VNĐ, …USD info@ino.com.vn | Tel: (+84) 028 73000184 | Dual Phase Lock-in Amplifier – Computer Control Only (5105).