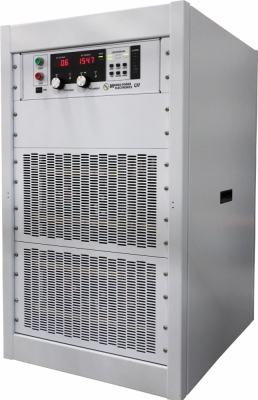 Lưu ý: Tham khảo ý kiến của nhân viên INO sẽ giúp bạn tiết kiệm được thời gian và chi phí khi cần mua sắm. ​​Với sự tư vấn của chúng tôi, bạn sẽ không gặp khó khăn khi tìm hiểu về đặc tính của sản phẩm cần mua.
Innovative and Scalable
Magna-Power Electronics MS Series combines the best of DC power processing with microprocessor embedded control. A combination of high and medium frequency power processing technologies improves response, shrinks package size, and reduces cost. MS Series power supplies arecurrent-fed and are more tolerant to abusive loads than conventional switching power supplies. This technology allows the power supply to operate under short-circuit conditions, open-circuit conditions, and everything in between.
MS Series power supplies offer both master/slave parallel and series operation. This enables two or more power supplies to be placed in parallel for increased output current or in series for increased output voltage. With master/slave operation, power supplies operate at near equal voltage and current. The process of master/slaving power supplies is plug & play with the use of Magna-Power Electronics UID46 option, which can be added at any time.
MS Series power supplies can operate as a voltage source or current source depending on the control settings and load conditions. If the power supply is operating as a voltage source and the load increases to a point beyond the current command setting, the power supply automatically crosses over to current mode control and operates as a current source at that setting.
Designed for Safety
The MS Series power supplies have extensive diagnostic functions — all of which, when activated, take command to shut down the system. Diagnostic functions include phase loss, excessive thermal conditions, over voltage trip, over current trip, fuse clearing, and program line. Program line monitors externally applied analog set point signals to insure they are within the specified range. Upon a diagnostic fault condition, main power is disconnected and the diagnostic condition is latched into memory. Pressing the clear key clears the memory. All diagnostic functions can be monitored through a rear connector. Furthermore, control functions can also be set through the rear connector to allow simultaneous control of one or more MS Series units.
MS Series supplies have three levels of over voltage/current protection: shutdown of controlling insulated gate bipolar transistors (IGBT's), disconnect of main power, and input fuses. After an over voltage/current trip condition, the supply must be reset.
Load Dependent Air or Optional Water Cooling
The MS Series power supplies are designed to operate at rated load 24 hours per day. Standard air cooled units are equipped with variable speed, load dependent blowers to maintain comfortable margins for removing heat from sensitive power semiconductors. Variable speed operation maximizes fan life and a minimizes external environmental hazards.
Models with the Water Cooling Option (+WC)contain integrated semiconductor chillers and air to water heat exchangers to manage cooling of heat producing components, without any change to the package size. This option allows the power supply to be sealed from the environment enabling placement in harsh environments. These units provide long life in plating facilities, electrodionization treatment plants, shipboard, and other corrosive environments. Water cooling also permits power supplies to be stacked in high density equipment racks where air cooling is not possible nor desireable.
Model Ordering Guide
Models Chart
The following chart details the available standard MS Series models. The Current Maximum (Adc) column is separated by the available power levels. To determine the appropriate model, first select your output Voltage Maximum (Vdc) to find appropriate row. Next, select one desired Current Maximum from the row that contains your desired Voltage Maximum. Then, construct your model number according to the model ordering guide, above. Non-standard voltage and current configurations are available.
30 kW

45 kW

60 kW

75 kW

Voltage Maximum

Current Maximum

Ripple (mVrms)

Eff. (%)

5

2700*

3600*

4500*

N/A

50

86

10

2700*

3600*

4500*

N/A

40

86

16

1800

2700

3600

4500

35

86

20

1500

2250

3000

3750

40

86

32

900

1350

1800

2250

40

86

40

750

1125

1500

1875

40

87

50

600

900

1200

1500

50

87

80

372

558

744

930

60

87

100

300

450

600

750

60

87

125

240

360

480

600

100

87

160

186

279

372

465

120

87

200

150

225

300

375

125

87

250

120

180

240

300

130

88

375

78

117

156

195

170

88

400

72

108

144

180

180

88

500

60

90

120

150

220

88

600

48

72

96

120

250

88

800

36

54

72

90

300

88

1000

30

45

60

75

350

88

1250

24

36

48

60

375

88

1500

19.8

27.7

39.6

49.5

400

88

2000

15.0

22.5

30.0

37.5

450

88

3000

9.6

14.4

19.2

24.0

Resource & Download

Lưu ý: Nếu một thiết bị nào đó không được liệt kê ở đây, điều đó không có nghĩa rằng chúng tôi không hỗ trợ được bạn về thiết bị đó.

Hãy liên hệ với chúng tôi

 để biết danh sách đầy đủ về thiết bị mà chúng tôi có thể hỗ trợ và cung cấp.

INO: Bán, Báo giá, tư vấn mua sắm và cung cấp, tư vấn sản phẩm thay thế; tương đương, hướng dẫn sử dụng, giá…VNĐ, …USD info@ino.com.vn | Tel: (+84) 028 73000184 | Magna Power Electronics- Programmable DC Power Supplies (Model:MS SERIES IV: 30 KW TO 75 KW).