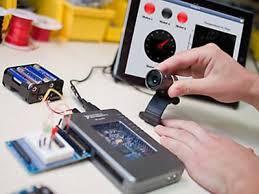 Lưu ý: Tham khảo ý kiến của nhân viên INO sẽ giúp bạn tiết kiệm được thời gian và chi phí khi cần mua sắm. ​​Với sự tư vấn của chúng tôi, bạn sẽ không gặp khó khăn khi tìm hiểu về đặc tính của sản phẩm cần mua.
NI myRIO places dual-core ARM® Cortex™-A9 real-time processing and Xilinx FPGA customizable I/O into the hands of students. With its onboard devices, seamless software experience, and library of courseware and tutorials, NI myRIO provides an affordable tool that students can use to do real engineering in one semester.
Teach With a Multiconcept Tool
One device for teaching controls, robotics, mechatronics, and embedded concepts.
Imagine the Idea and Create It
Program onboard devices and connect third-party sensors.
Design On Time
Students design real engineering systems faster than ever before.
Teach Multiple Concepts With One Tool
Learn and Design on One Device
Students can now learn on the same device that they will later use to build projects. Using industry-standard technology in a portable form factor, students can explore a variety of engineering concepts that scale to real-world projects.
Integrate With Existing Curriculum
Supplement your curriculum with downloadable courseware and example projects. By incorporating a hands-on approach to teaching, you can build student proficiency.
Imagine the Idea and Create It
Multifunctional
NI myRIO uses the latest Zynq technology from Xilinx featuring an FPGA integrated with a processor running a real-time OS. This powerful technology coupled with an onboard accelerometer, programmable LEDs, audio I/O, analog and digital I/O, and USB port helps thousands of project ideas come to life.
Affordable and Portable
The NI myRIO student-ready enclosure and academic pricing discount means students can work on their own hardware device inside or outside of the classroom. With built-in WiFi capability, students can wirelessly transfer data and deploy code.
Programmable for All Skill Levels
Students can complete a project in one semester no matter their major or programming experience. NI myRIO harnesses the power of FPGA programming with LabVIEW software and provides the option to program the processor in either LabVIEW or C/C++. Students can program at their current experience level and graduate to more complexity as they grow comfortable.
Compatible and Expandable
Students gain experience on one, expandable platform with the ability to scale their learning and create more sophisticated projects in a shorter amount of time. Using both new and existing sensors and actuators, NI myRIO gives educators and students the ability to reuse the device from project to project and semester to semester.
Learn more about the NI Education Platform
The NI education platform combines hardware, software, and courseware designed to create engaging learning experiences that prepare students for the next generation of innovation.
Resource & Download
Lưu ý: Nếu một thiết bị nào đó không được liệt kê ở đây, điều đó không có nghĩa rằng chúng tôi không hỗ trợ được bạn về thiết bị đó.
Hãy liên hệ với chúng tôi
 để biết danh sách đầy đủ về thiết bị mà chúng tôi có thể hỗ trợ và cung cấp.
INO: Bán, Báo giá, tư vấn mua sắm và cung cấp, tư vấn sản phẩm thay thế; tương đương, hướng dẫn sử dụng, giá…VNĐ, …USD info@ino.com.vn | Tel: (+84) 028 73000184 | NI-Educational Hardware (Model: NI MyRIO).