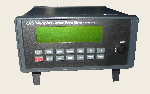 Lưu ý: Tham khảo ý kiến của nhân viên INO sẽ giúp bạn tiết kiệm được thời gian và chi phí khi cần mua sắm. ​​Với sự tư vấn của chúng tôi, bạn sẽ không gặp khó khăn khi tìm hiểu về đặc tính của sản phẩm cần mua.
DC power measurements can be displayed in units of W and dBm on the instrument\'s 4 1/2 digit annunciated, backlit, wide-angle view LCD, providing wide dynamic range with power sensitivities down to 100 fW and full scale readings up to 2 W, with the OD-3 calibrated optical attenuator. Various detector accessories allow for free-space, as well as for fiber coupled power measurements.
Relative power measurements, in reference to a previously stored value, can also be performed with the result displayed either as a ratio or in dB.
A built-in beeper, which changes its frequency as a function of incident optical power, can be utilized to optimize optical beam alignment.
RS-232C and IEEE-488 (GPIB) interfaces are both provided as standard features, allowing the remote control of the instrument with a personal computer. Sample LabVIEW drivers are provided upon request.
Additional features include wavelength adjustment in 1 nm steps from the front panel, and an analog output that provides a voltage proportional to the detector current, to be used for recorder or control loop applications.
Resource & Download
Lưu ý: Nếu một thiết bị nào đó không được liệt kê ở đây, điều đó không có nghĩa rằng chúng tôi không hỗ trợ được bạn về thiết bị đó.
Hãy liên hệ với chúng tôi
 để biết danh sách đầy đủ về thiết bị mà chúng tôi có thể hỗ trợ và cung cấp.
INO: Bán, Báo giá, tư vấn mua sắm và cung cấp, tư vấn sản phẩm thay thế; tương đương, hướng dẫn sử dụng, giá…VNĐ, …USD info@ino.com.vn | Tel: (+84) 028 73000184 | Optical Power Meter mainframe (1830C).