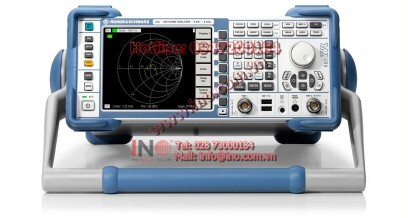 Lưu ý: Tham khảo ý kiến của nhân viên INO sẽ giúp bạn tiết kiệm được thời gian và chi phí khi cần mua sắm. ​​Với sự tư vấn của chúng tôi, bạn sẽ không gặp khó khăn khi tìm hiểu về đặc tính của sản phẩm cần mua.
Key Facts
Optional spectrum analysis and digital communications standards
Bidirectional test set for displaying all four S-parameters
R&S®ZVL3-75: 75 Ω vector network analyzer for TV and CATV measurements
Multitrace display for displaying all relevant parameters
Distance-to-fault measurement for detecting cable faults
Time domain analysis
USB connector for R&S®NRP-Z power sensor series for precise power measurements
Internal battery and 12 V DC operation
Small, compact, lightweight and portable (< 7 kg)
Features & Benefits
Full one-port (OSM), full two-port (TOSM), and one-path two-port calibration
Measurement of S-parameters, impedance, admittance, and stability
Output of results as Smith chart, inverted Smith chart, magnitude and phase, polar diagram, real, imaginary, group delay, VSWR
Unlimited number1) of traces and channels; overlay display of traces also of different channels in a single diagram
Trace evaluation: max, min, peak-to-peak, RMS, mean, standard deviation, electrical length, phase delay
Bandpass filter evaluation in terms of center frequency, bandwidth, ripple, quality factor, attenuation, etc.
Optional spectrum analyzer functionality (R&S®ZVL-K1) with full network analyzer capability available at the same time
Brief Description
The R&S®ZVL is a cost-efficient, powerful, and portable network analyzer in the compact class, and is therefore ideal for use in development, production, and service. It is the only instrument to combine the functions of a network analyzer, spectrum analyzer, and power meter in a single box, and will thus tremendously increase your work efficiency.
Specifications
Network Analysis
Frequency range
9 kHz (typ. 5 kHz) to 3 GHz/6 GHz/13.6 GHz
Measurement time (201 test points at 100 kHz IF bandwidth, with normalization calibration)
<50 ms
Data transfer time (201 test points)
Via RSIB over 100 Mbit/s LAN
1.5 ms
Dynamic range at 10 Hz measurement bandwidth (20 MHz to 3 GHz)
>115 dB, typ. 123 dB (ZVL3,ZVL6)
> 100 dB, typ. 105 dB (ZVL13)
Output power range
–50 dBm to 0 dBm, typ. –60 dBm to +10 dBm (ZVL3, ZVL6 and ZVL3-75)
Measurement bandwidths
10 Hz to 500 kHz in 1/2/5 steps
Trace noise
< 0.005 dB (rms above 10 MHz)
Receiver step attenuators (maximum nominal input power)
0 dB to 30 dB
Number of channels, diagrams, traces
>1001)
Number of test points per trace
2 to 4001
Operating system
Windows XP Embedded
Weight (without battery)
<7 kg (15.43 lb)
1) Limited by available RAM capacity
Spectrum Analysis (R&S®ZVL-K1 option)
Frequency range
9 kHz to 3 GHz/6 GHz/13.6 GHz
Frequency uncertainty
1 × 10–6
With R&S®FSL-B4 option
1 × 10–7
Resolution bandwidths
Standard
300 Hz to 10 MHz in 1/3 steps, 20 MHz at zero span
With R&S®FSL-B7 option
(1 Hz) 10 Hz to 10 MHz in 1/3 steps
Video bandwidths
10 Hz to 10 MHz
I/Q demodulation bandwidth
20 MHz
SSB phase noise at 500 MHz
typ. –103 dBc (1 Hz) at 10 kHz carrier offset
Displayed average noise level
Without preamplifier at 1 GHz
<–140 dBm (1 Hz)
With preamplifier at 1 GHz
<–156 dBm (1 Hz), typ. –163 dBm (1 Hz)
Third-order intercept (TOI)
>+5 dBm, typ. +12 dBm
Detectors
max/min peak, auto peak, rms, quasi peak, average, sample
Level measurement uncertainty (95% confidence level)
<0.5 dB
Lưu ý: Nếu một thiết bị nào đó không được liệt kê ở đây, điều đó không có nghĩa rằng chúng tôi không hỗ trợ được bạn về thiết bị đó.
Hãy liên hệ với chúng tôi
 để biết danh sách đầy đủ về thiết bị mà chúng tôi có thể hỗ trợ và cung cấp.
INO: Bán, Báo giá, tư vấn mua sắm và cung cấp, tư vấn sản phẩm thay thế; tương đương, hướng dẫn sử dụng, giá…VNĐ, …USD info@ino.com.vn | Tel: (+84) 028 73000184 | Rohde-schwarz-Vector Network Analyzers (Model:R&S®ZVL ).