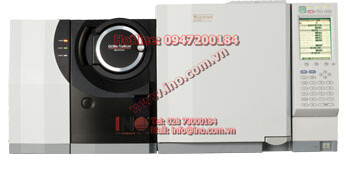 Lưu ý: Tham khảo ý kiến của nhân viên INO sẽ giúp bạn tiết kiệm được thời gian và chi phí khi cần mua sắm. ​​Với sự tư vấn của chúng tôi, bạn sẽ không gặp khó khăn khi tìm hiểu về đặc tính của sản phẩm cần mua.
Chemists need to measure chemical substances quickly and accurately, but sample pretreatment and interference from complex matrices remain a problem. A solution to these challenges has arrived. The solution is the GCMS-TQ8030 Triple Quadrupole Gas Chromatograph Mass Spectrometer, which provides the speed,accuracy, and easy operation scientists want.
High Sensitivity and Enhanced Selectivity
Because GC/MS systems are able to identify individual components using retention time and mass spectra, they are especially useful for detecting trace-level contaminants in a variety of sample types. However, unambiguous identification can be difficult in the presence of a complex or problematic matrix. Multiple Reaction Monitoring (MRM) in GC/MS/MS systems separates masses in two stages, making the instrument significantly more selective than a single quadrupole system. As a result, even components that cannot be analyzed by conventional scan or SIM modes can be easily identified and quantified in the presence of complex matrices using MRM. For example, MRM can be a particularly effective measurement tool for analyzing residual pesticides in food.
High-Sensitivity Analysis by Single GC/MS Mode
The high-efficiency ion source provides the foundation of an ion generation and transmission system which efficiently creates, then delivers, ions to the detector, resulting in a GCMS with the highest sensitivity specification in its class. This achieves high sensitivity not only for MRM measurements by GC/MS/MS, but also for scan and SIM measurements by GC/MS.
High-Speed Performance
UFsweeper®Technology Effectively Accelerates Ions Out of the Collision Cell
UFsweeper® is a unique technology created by Shimadzu that minimizes collision cell length, while providing high CID efficiency and high ion transport speed. UFsweeper accelerates ions out of the collision cell by forming a pseudo-potential surface, as shown in the illustration below. This prevents any drop in signal intensity or cross-talk, even at fast measurement speeds.
Fast Scanning Analysis with ASSPTM
The GCMS-TQ8030 is equipped with an internal firmware protocol that optimizes the ion transmission parameters during the scan acquisition process. This technology, called Advanced Scanning Speed Protocol (ASSP™), is the key to this instrument's ability to acquire high-quality spectra at scan speeds of up to 20,000 u/second.
High-Speed MRM Measurement
Lưu ý: Nếu một thiết bị nào đó không được liệt kê ở đây, điều đó không có nghĩa rằng chúng tôi không hỗ trợ được bạn về thiết bị đó.
Hãy liên hệ với chúng tôi
 để biết danh sách đầy đủ về thiết bị mà chúng tôi có thể hỗ trợ và cung cấp.
INO: Bán, Báo giá, tư vấn mua sắm và cung cấp, tư vấn sản phẩm thay thế; tương đương, hướng dẫn sử dụng, giá…VNĐ, …USD info@ino.com.vn | Tel: (+84) 028 73000184 | Shimadzu- Gas Chromatograph Mass Spectrometer(Model:GCMS-TQ8030).