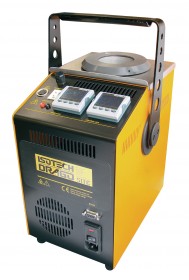 Lưu ý: Tham khảo ý kiến của nhân viên INO sẽ giúp bạn tiết kiệm được thời gian và chi phí khi cần mua sắm. ​​Với sự tư vấn của chúng tôi, bạn sẽ không gặp khó khăn khi tìm hiểu về đặc tính của sản phẩm cần mua.
Hyperion is a calibration liquid bath for temperature thermometers from -25°C (in ambient of 20°C) to 140°C. It has a large calibration volume, 65 mm x 160 mm deep, which makes it ideal to use as a portable liquid bath. The stirred liquid bath is suitable for temperature sensors of all types, sizes and shapes.
The liquid bath can provide smaller calibration uncertainties than a dry block and, when used with suitable reference thermometers, accuracies of up to 0.005°C can be achieved. The sensors can be placed directly into the stirred liquid thus avoiding the need for specially drilled blocks. Temperature homogeneity is ensured by constant liquid stirring. It is not necessary to empty the block to move the system from one place to another, a cap ensures the sealing.
In the optional dry block mode, the large 65 mm diameter block allows for the calibration of either larger probes or for calibrating many sensors simultaneously over the range -25°C to +140°C. Fully compatible with the leading I-Cal Easy automatic calibration software you can also benefit from the combination of flexibility and large calibration capacity.
Combined with accessories, it can also be converted into a Blackbody Source for infrared thermometers, a surface sensor calibrator and ITS-90 Fixed Point cell with calibration uncertainties up to 0.0005ºC.
Hyperion is available in two models, the BASIC (B) and the SITE (S).
The B model includes a sophisticated temperature controller with a dual display for set temperature and dry block temperature.
The S model additionally includes an in-built temperature digital indicator to which an external temperature sensor can be connected. It ensures traceability, best practise and adherence to quality standards and calibration to the smallest of uncertainties.
Key features:
Large calibration volume: 65 x 160 mm diameter
Portable liquid bath, convertible for dry block operation
Calibration as a liquid bath or a dry block: thermocouples, platinum resistance thermometers, thermistors, liquid in glass, thermostats, semiconductor types
Temperature range
-25°C (Tamb 20°C) to +140°C
Stability as:
Dry block
Blackbody
Surface sensor
Stirred liquid bath
ITS-90 Fixed Point cells
Ice bath

±0.03°C
±0.3°C
±0.5°C
±0.025°C
±0.0005°C
±0.001°C

Accuracy as dry block
0.15°C
Uniformity:
Between holes as dry block
Radial as liquid bath
Lower 40 mm (Axial) as dry block
Lower 40 mm (Axial) as liquid bath

< 0.008°C
< 0.009°C
< 0.04°C
< 0.011°C

Heating time
-20°C to 140°C: 40 min
Cooling time
140°C to 20°C: 90 min
20°C to -25°C: 80 min
Insert diameter
65 mm
Immersion depth
160 mm
Insert types
3 different types
General specifications
Size
302 x 176 x 262 mm
Weight
12 kg
Power supply
115 VAC or 230 VAC, 50/60 Hz
200 Watts
Communication ports
RS 232
Resource & Download
Lưu ý: Nếu một thiết bị nào đó không được liệt kê ở đây, điều đó không có nghĩa rằng chúng tôi không hỗ trợ được bạn về thiết bị đó.
Hãy liên hệ với chúng tôi
 để biết danh sách đầy đủ về thiết bị mà chúng tôi có thể hỗ trợ và cung cấp.
INO: Bán, Báo giá, tư vấn mua sắm và cung cấp, tư vấn sản phẩm thay thế; tương đương, hướng dẫn sử dụng, giá…VNĐ, …USD info@ino.com.vn | Tel: (+84) 028 73000184 | AOIP-Hyperion, stirred liquid bath, dry block, Blackbody source & Fixed Point system (Model:HYPERION).