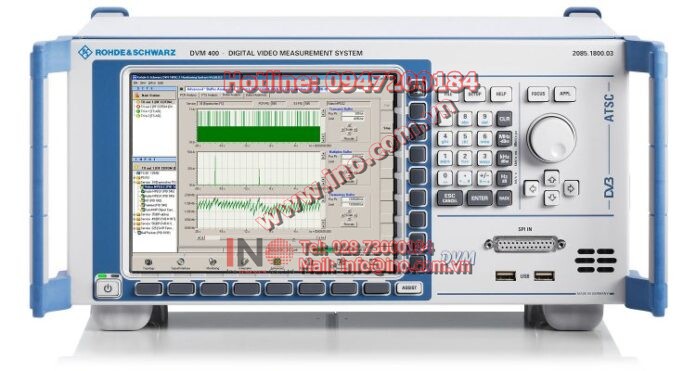 Lưu ý: Tham khảo ý kiến của nhân viên INO sẽ giúp bạn tiết kiệm được thời gian và chi phí khi cần mua sắm. ​​Với sự tư vấn của chúng tôi, bạn sẽ không gặp khó khăn khi tìm hiểu về đặc tính của sản phẩm cần mua.
Key Facts
Ideal for development and maintenance
Monitoring/analysis of transport streams and contents
Monitoring, analysis and demodulation of RF signals of various standards
Monitoring, analysis and transcoding of IPTV signals (Gigabit Ethernet)
Powerful generator and recorder options with extensive TS libraries and TS multiplexer software
Simultaneous operation of multiple functions
Small and lightweight, therefore ideal for portable applications
Brief Description
The R&S®DVM400 is a versatile and powerful portable instrument for in-depth analysis of digital TV signals. It is ideal for maintenance tasks in applications such as digital TV signal generation, distribution and contribution as well as for development and testing of digital TV equipment such as multiplexers, encoders, modulators and associated components.
Lưu ý: Nếu một thiết bị nào đó không được liệt kê ở đây, điều đó không có nghĩa rằng chúng tôi không hỗ trợ được bạn về thiết bị đó.
Hãy liên hệ với chúng tôi
 để biết danh sách đầy đủ về thiết bị mà chúng tôi có thể hỗ trợ và cung cấp.
INO: Bán, Báo giá, tư vấn mua sắm và cung cấp, tư vấn sản phẩm thay thế; tương đương, hướng dẫn sử dụng, giá…VNĐ, …USD info@ino.com.vn | Tel: (+84) 028 73000184 | Rohde-schwarz- Digital Video Measurement System (Model:R&S®DVM400).