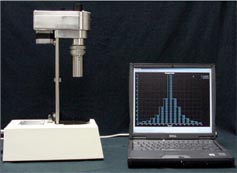 Lưu ý: Tham khảo ý kiến của nhân viên INO sẽ giúp bạn tiết kiệm được thời gian và chi phí khi cần mua sắm. ​​Với sự tư vấn của chúng tôi, bạn sẽ không gặp khó khăn khi tìm hiểu về đặc tính của sản phẩm cần mua.
A Critical tool for Completion, Cementing and Drilling Fluids
The Model 3530 is a fully automated concentric cylinder viscometer designed to meet API and ISO requirements for viscosity measurements of many of the fluids used in well servicing. This viscometer is fully operational in manual mode without the use of a computer or as a computer controlled viscometer with preconfigured periodic shear rate rampin. The Rheo 3000 Data Acquisition Software is provided with the instrument and provides a powerful tool ensuring consistent testing parameters and results.

Operational Simplicity
The Model 3530 is an automated version of the Model 3500LS viscometer combined with our powerful Rheo 3000 Data Acquisition Software running on your computer. This combination provides complete, programmable control of the viscometer's speed throughout a test cycle including step changes, linear ramps and constant speeds as low as 0.01 rpm. Rheo 3000 also provides automatic data acquisition graphical displayand analysis of the test results. All test data is stored in a spreadsheet compatible file format for ease of data handling.
Features
• Easy to Set-up, Operate, Clean and Maintain
• Rheo 3000 Data Acquisition Software
• Automatic Calculation of Bingham Plastic and Power Law Parameters
• Remote Control of Motor System (Step Changes, Linear Ramps, Constant Speed)
• Automatic Calibration Capability
• Meets API and DIN Standards for Oilfield Cements and Completion Fluids
• Multiple Rotor / Bob Combinations and Spring Factors Available

Operating Speeds: 16 Manual Speeds from 0.1 to 600 rpm
0.01 to 600 rpm when computer controlled
Shear Rate (sec-1)**: 0.17 to 1021 with supplied rotor, bob and spring
Shear Rate Accuracy: ±0.01 rpm ±0.017 sec-1
Torque Accuracy: ±0.5 dial reading from 1 to 260 degrees
Sample Temperature: 194ºF / 90ºC Maximum
Sample Volume: 350mL
Operating Conditions: 75ºF – 194ºF / 24ºC – 90ºC
Compliance: System complies with API Spec. 10A requirements

Utilities
Power Requirements: 120 or 240 Volts, 50/60 Hz, 700 W

Physical Dimensions
Dimensions (wxdxh): 7 x 12 x 18.2 in / 18 x 31 x 46 cm
Weight: 47 lb / 21 kg

Shipping Information
Dimensions (wxdxh): 13 x 25 x 20 in / 33 x 64 x 51 cm
Resource & Download
Lưu ý: Nếu một thiết bị nào đó không được liệt kê ở đây, điều đó không có nghĩa rằng chúng tôi không hỗ trợ được bạn về thiết bị đó.
Hãy liên hệ với chúng tôi
 để biết danh sách đầy đủ về thiết bị mà chúng tôi có thể hỗ trợ và cung cấp.
INO: Bán, Báo giá, tư vấn mua sắm và cung cấp, tư vấn sản phẩm thay thế; tương đương, hướng dẫn sử dụng, giá…VNĐ, …USD info@ino.com.vn | Tel: (+84) 028 73000184 | Chandler Engineering-Viscometer ̣̣̣(Model:3530).