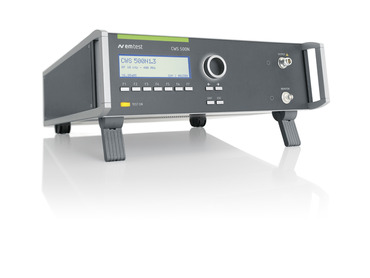 Lưu ý: Tham khảo ý kiến của nhân viên INO sẽ giúp bạn tiết kiệm được thời gian và chi phí khi cần mua sắm. ​​Với sự tư vấn của chúng tôi, bạn sẽ không gặp khó khăn khi tìm hiểu về đặc tính của sản phẩm cần mua.
Highlights
Test procedure acc. IEC 61000-4-6 Ed. 4
Built-in amplifier saturation and linearity check
Built-in amplifier, 10 kHz to 400 MHz
Built-in power meter, 9 kHz to 1 GHz
Built-in dual directional coupler
Automatic calibration via built-in power meter
Connection for external amplifiers up to 1 GHz
USB-Interface
Software for Windows 7, Windows 8
Application
CWS 500N1.3 – The single box solution for rf conducted immunity Testing
The CWS 500N1.3 is the most compact single box test equipment for testing conducted rf immunity per IEC 61000-4-6 Ed. 3 and Ed. 4 and related standards with a frequency range of 10 kHz to 400 MHz. Apart from the 1 kHz 80 % AM signal the generator also generates a 2 Hz 80 % AM signal to test medical appliances and a 1 Hz PM signal with 50 % duty cycle required to test safety equipment like fire alarms. Equipped with a 1 GHz current monitor the CWS 500N1.3 can be used up to 1 GHz by means of an external amplifier. EM TEST supplies a large range of CDNs, EM clamp and current injection clamps as well as the corresponding calibration accessories. Full compliant levelling can be run from the front panel of the CWS 500N1.3 storing the results in 5 memory spaces is available.
Conducted rf immunity testing – Easy, fast and reliable
One single box replaces five dedicated items. Hence setting up for testing is much easier and faster, saves space, is much more reliable and you achieve a higher reproducibility of the test results.
The CWS 500N1.3 offers the best benefit-to-cost ratio. Calibration/levelling of the test set-up has never been easier; terminate the DUT port with the calibration adapter, connect this to the 150ohm-to-50ohm matching impedance and lead its output to the Cal Input. Start the calibration routine and you are done in a minute.
The signal generator delivers signals up to 400MHz for the internal amplifier while the frequency range can be extended for 9kHz to 1GHz using an external amplifier.
The powerful, top-performance built-in class A amplifier allows to test up to 30V using any kind of coupling/decoupling device (CDNs, EM clamps, current injection clamps). The built-in 1GHz current monitor offers the ability to control the injected current signal while using injection clamps.
The EM TEST specific Quick Start test routine complemented by pre-programmed Standard Test routines make the CWS 500N1.3 completely independent from operation by software. icd.control software extends the capabilities of the CWS 500N1.3 to a complete rf test system, e.g. performing enhanced calibrations (customised voltage level or frequency range) through the built-in power meter.
CWS 500N Series
Continuous wave simulation from DC to 1GHz
Continuous wave simulation over 9 decades! The CWS 500N family not only covers the frequency range mostly required for industrial test applications based on IEC 61000-4-6 but EM TEST also offers dedicated solutions for the low frequency range as well as for BCI (Bulk Current Injection), TEM cell or Stripline applications in the automotive, aerospace and military area.
The CWS 500N4 is the state-of-the-art solution in a compact single-box design to test for immunity to conducted, common mode disturbances in the frequency range 0Hz (DC) to 150kHz. Such test requirements are specified in IEC 61000-4-16 and cover continuous mode testing as well as short term testing with DC, 16 2/3Hz, 50Hz and 60Hz with 4 test levels each plus a sweep mode from 15Hz to 150kHz.
Resource & Download
Lưu ý: Nếu một thiết bị nào đó không được liệt kê ở đây, điều đó không có nghĩa rằng chúng tôi không hỗ trợ được bạn về thiết bị đó.
Hãy liên hệ với chúng tôi
 để biết danh sách đầy đủ về thiết bị mà chúng tôi có thể hỗ trợ và cung cấp.
INO: Bán, Báo giá, tư vấn mua sắm và cung cấp, tư vấn sản phẩm thay thế; tương đương, hướng dẫn sử dụng, giá…VNĐ, …USD info@ino.com.vn | Tel: (+84) 028 73000184 | EMTEST-Continuous Wave Simulator, 80W (Model: CWS 5001.3).